Human Barbie is not that interesting, Human Ken says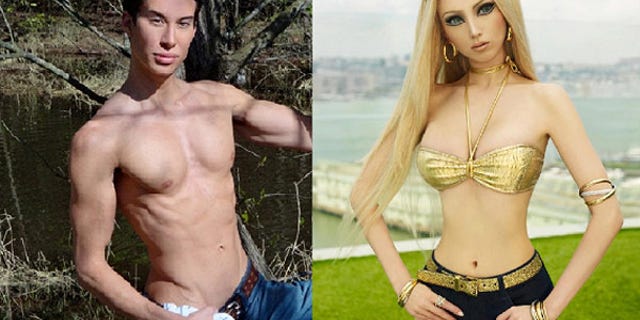 Can't all human Barbies just get along? Some doll-like warfare has broken out as Justin Jedlica, a man who has had approximately 140 surgical procedures to look more like a Ken doll, ripped into the Human Barbie Valeria Lukyanova in an interview with GQ, calling her uninteresting and not fake enough.
Human Ken met Human Barbie at a photo shoot, and they definitely did NOT end up falling in love and riding off into the sunset in a Beach Cruiser.
"I don't really get her," Justin told GQ. "I don't get why people think she's so interesting. She has extensions. She wears stage makeup. She's an illusionist."
As opposed to Justin, who has basically altered his entire body with surgical procedures in order to become Ken. His favorite alteration though is his shoulders. "Nobody has anything like them," he said. "I divided these so there's six pieces—front, middle, and back. Just like the actual anatomy."
Click here for more pics of the doll duo from HollywoodLife.com