Hugh Hefner: I Was 'Blessed Beyond Words' When Holly Madison Left Me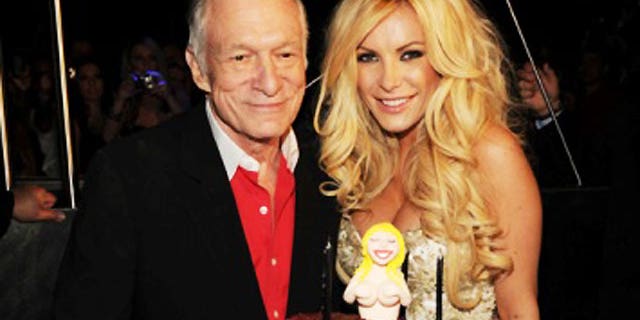 LOS ANGELES – Hugh Hefner's former number-one girlfriend Holly Madison left the ultimate "Playboy" devastated when she ended the relationship in the summer of 2008, but as the age-old adage says, everything happens for a reason and Hef now says his split was for the absolute best.
"(With Crystal Harris) I have found the relationship that I thought I had found with Holly. In retrospect I do believe in the most recent years, I was without being aware of it, starting to look for a more serious one-on-one relationship," Hef told Pop Tarts. "And when it did not work out with Holly, I was blessed beyond words to so quickly find someone who really just was waiting. Crystal is very romantic, very sweet."
And ever since the Shannon twins parted ways with the mansion earlier this year, Hefner (who normally has multiple leading ladies, as many as seven at one time) has no desire to boost his brood of girlfriends and (shock!) is ready to settle down – for good.
"I'm in a serious relationship that I think is going to last—with luck—the rest of my life. Yes, Crystal Harris: a keeper, a very special lady," Hef continued. "I think she's the real deal and we have many common interests despite the age disparity. We just fit very naturally."
SLIDESHOW: The Lovely and Talented Crystal Harris
Harris, who is just 23, seems very much in love with her older beau who celebrated his 84th Birthday with his traditional "Casablanca" movie night at the Mansion on Friday followed by a weekend in Sin City where she surprised him by singing a special rendition of "Happy Birthday" at Moon nightclub.
During the trip, Madison also joined her former flame in his hotel suite at the Palms Casino Resort to mark the momentous occasion prior to her performance in "Peep Show."
So, at the age of 84, how does Hefner manage to stay healthy and continue to bring home beautiful, busty blondes?
"Staying active keeps you young, but I think the big secret is pick your parents with great care, good DNA," he joked. "My mother lived to be 101, so that's part of it and a healthy mind and body. Taking care of yourself, and I'm an essentially optimistic person and have reason to be."
SLIDESHOW: The Handsome and Always Talented Hugh Hefner
The magazine mogul is regarded as the father of the sexual revolution as his magazine, which was founded in 1953, transcended barriers as the first to feature nude women. However Hef now believes America has adopted a somewhat deranged attitude towards nudity – on one hand it has become mainstream, but on the other hand flashing the flesh is still taboo.
"There's something schizophrenic about nudity and sexuality in America," he said. "Nudity in a certain sense has gone mainstream and you'll find it in all these other magazines. Until about 20 years ago, the only magazine that was covering or running pictorials of nudes or semi nudes was Playboy. Now Esquire, GQ, Vanity Fair, even New York Magazine. But it was Playboy that broke all the boundaries and helped establish the sexual revolution and still pays a price for it. The magazine is not as widely distributed and we do not get the same kind of advertising that we did in the 1960s and 70s. So there is a price to be paid."
Speaking of the men's magazine, John Mayer sparked a firestorm in the recent issue in which he made racist remarks and dished intimate details about his romance with Jessica Simpson – and Hef was less than impressed.
"Kiss 'n' tell is not such a good thing," he said with a smile.