Hugh Grant says 'Four Weddings and a Funeral' was 'an appalling choice' to film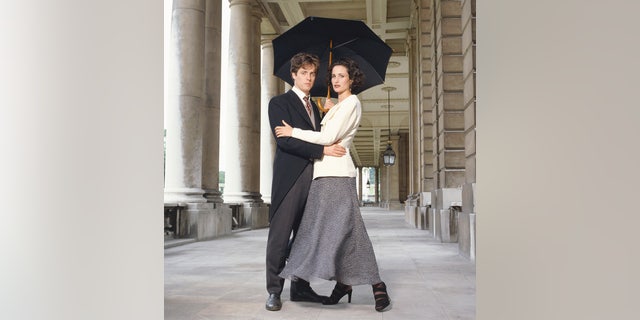 Everyone makes mistakes and Hugh Grant has revealed which of his films he now considers an "appalling choice."
The actor, 57, delighted fans at the BAFTA Life In Pictures event on the weekend by reflecting on his career which took off after starring in "Four Weddings and a Funeral" in 1994.
Speaking about that film, Grant said writer Richard Curtis "seemed to want me dead" because he had designed the character of Charles "in his own image and when I waltzed in, he didn't think I was him; and he was right."
HUGH GRANT SAYS HE 'COULDN'T STOP CRYING FOR THREE WEEKS'
"The bottom line is, it was Richard. Once I met him, I played him basically," the actor said, according to Deadline.
Grant added that "Four Weddings and a Funeral" producers wanted to give him "the worst haircut in the world" for the film, "and it backfired on them all because it became a haircut that was copied."
The movie was a hit and was nominated for an Academy Award for best picture, but Grant told the audience that he thought it was a terrible film when he first saw a rough cut.
"Rowan (Atkinson) was funny, the rest of it was just awful and I had to be helped sobbing back onto the set," he said.
"Then they had a screening in Santa Monica and suddenly everyone loved it. It was a total surprise to everyone."
Grant became hot property in Hollywood after "Four Weddings and a Funeral" and was inundated with offers. But he happily admits that he made a big mistake by saying yes to the wrong movie.
"I horrified my scary new LA agents by turning everything down and then finally made an appalling choice," he said.
The movie he said yes to was "Nine Months" which also starred Julianne Moore, Tom Arnold, Joan Cusack, Jeff Goldblum and Robin Williams.
"I made the wrong film with very good people," he said. "I overacted grotesquely."
Grant described making "Nine Months" as "a horrid experience" but added the movie was a success despite the fact he was arrested for lewd conduct in a public place on the eve of its release.
Grant will next be seen on the big screen in "Paddington 2" in which he plays an egotistical actor.
"I got a letter with the script saying, 'We've got this part of an extremely self-obsessed, ex-famous actor that's fallen on hard times,'" he recalled on "The Graham Norton Show."
"I was a fraction hurt! But it was a very funny script and it was a tad therapeutic as I have deep reservoirs of actorly narcissism, neurosis, anger and hatred that I was able to tap."
This article originally appeared on news.com.au.