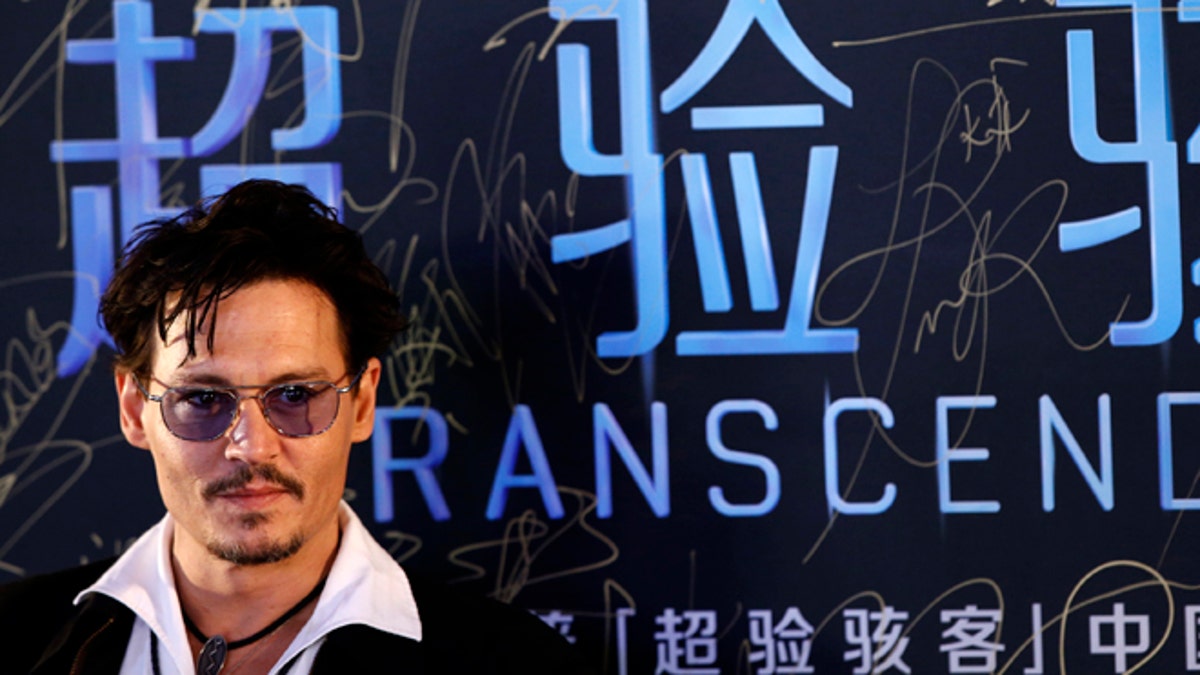 LOS ANGELES – Johnny Depp, the newly named Hollywood film ambassador to China, arrived in Beijing this week to promote his new film "Transcendence," which will open in both America and China on April 18.
Last week, Scarlett Johansson and Chris Evans were busy in a Beijing shopping mall pushing Disney's upcoming "Captain America: The Winter Soldier." Disney is marketing the superhero sequel in a partnership with the Chinese video website Youku Tudou, which will air interviews and behind-the-scenes footage on its "Star Talk" program in a bid to build a local fan base for the franchise. The film will also open there on the same day as the U.S. – this Friday, April 4.
Hollywood has been turning its money-making eye to China more and more, inking co-partnered film deals, opening studios in Shanghai and Beijing, tailoring scripts to appeal to the Communist government's requirements, and banking big bucks on Chinese film openings. But growing cracks in the relationship have some insiders wondering how this marriage will work.
As it stands, China is the second-largest global movie market and growing. Box office data for 2013 showed sales of $3.6 billion, up 27 percent from 2012, with homegrown movies taking $2.12 billion of that. Seven of the country's top ten grossing movies were also Chinese-made. To Hollywood's chagrin, that's an increase of 54.3 percent over 2012. With China's increased focus on promoting domestic films, Hollywood is likely to face increasing troubles not only getting their films to the screens, but having them play during prime times and for a reasonable time period, as well as being given the advertising space and time needed for big success.
Hollywood was dealt another blow earlier this year when China announced that it would maintain its strict quota for imported U.S. films for 2014, despite reports it had intended to increase the number of American films from 33 to 44. China controls precisely how many foreign films are allowed in, mostly to protect the box office share of domestic ventures. Hollywood trade TheWrap.com estimated that airing 33 films instead of 44 in China amounts to a loss of about $500 million in increased revenue.
That is, if Hollywood ever gets paid.
Hollywood's major studios have not seen a dime for a slew of movies, including "Man of Steel" and "Star Trek into Darkness," since China Film Group stopped payments pending resolution of a debate over a new 2 percent value added tax. The state-owned distributing group wants the studios to front the fee, but the studios argue that the additional payment would violate a landmark World Trade Organization (WTO) agreement reached in 2012 by U.S. Vice President Joe Biden and Chinese President Xi Jinping. The WTO legislation that the studios are citing states that the studios receive 25 percent of Chinese box office revenue on their films, with no additional payments (including taxes) coming out of the studios' split.
After much back and forth, MPAA Chief executive and chairman, Chris Dodd, said the dispute has been resolved, but he did not provide any details as to how and why – and Hollywood is continuing to play on. After all, the Chinese are building theaters at an alarming rate, adding 5,000 screens during 2013. On Monday, China's largest movie theatre circuit, Wanda Cinema Line Corporation, announced an extended agreement to install an additional 780 RealD 3D Cinema Systems at Wanda locations over the next three years. But the Chinese government makes no secret of the fact it is protecting its own interests first, and if Hollywood wants in on the growing movie moment, it's going to simply have to adapt to both the requirements of regulators and appeal to the sensibilities of the Chinese audience.
And that means Hollywood scripts and casting are in for an overhaul.
"We are going to see some serious changes in the next five years. Americans will be shocked at how much movies change," said Phil Contrino, VP and Chief Analyst for BoxOffice.com. "Hollywood now has to make a global product, and it is learning that you can't just put a couple of scenes set in China and a Chinese actor or two… There are growing pains, but this is a revolutionary thing that is happening."
To prop up its domestic product, much to the irritation of Hollywood power players, the country has enforced black-out periods prohibiting foreign films from playing and routinely opens two big potential money-makers on the same weekend – such as "Gravity" and "The Hunger Games" – which hurts ticket sales. Delayed scheduling, in which a film opens in the U.S. first, then in China at the government's discretion, also depresses sales, as pirated copies make the rounds.
"Chinese and U.S. studios have not had enough time on this and lack the physical proximity to develop the necessary trust and enforcement mechanisms of doing business," said entertainment attorney Julian Chan, who works with both the U.S. and Asian markets. "Over time I see the quality of Chinese films going up, especially if Hollywood does not address more of the interests and sensibilities of the Chinese audience."
Despite the problems, the two countries are still doing deals. Ren Zhongun – the chief of China's second-largest studio, Shanghai Film Group – recently announced that they were in negotiations about co-producing a slate of major franchises like "Spider Man" and "Iron Man" with U.S. studios. But experts argue it's a lot of talk with little walk.
"It has yet to translate into many significant projects," The Hollywood Reporter's Clifford Coonan wrote. "Expectations are running high in both industries for 2014 to be the year that Chinese studios start to expand into financing and co-producing major films with overseas companies."
But according to Contrino, the aforementioned issues are merely teething issues, and the partnership is on track to do big things.
"Both sides are not immune to misunderstandings and doing things that are misguided," he said. "Both sides are learning how to deal with each other. But the more money that flows, the less problems that will arise."
Follow @holliesmckay on Twitter.