Hillary Clinton on the 'Today' show: Will she cross paths with Matt Lauer?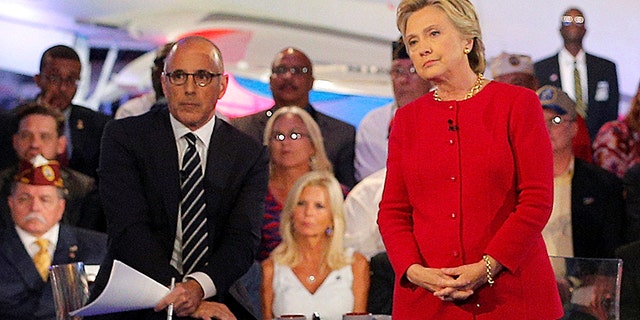 NEWYou can now listen to Fox News articles!
Things could get awkward on the set of NBC's "Today" show on Wednesday when Hillary Clinton visits after she ripped co-host Matt Lauer in her new book, "What Happened," which focuses on what caused her loss in the 2016 presidential bid against Donald Trump.
Back in Sept. 2016, "Today" co-host Matt Lauer was widely panned for his handling of a primetime town hall event between Clinton and Trump at the Intrepid Sea, Air & Space Museum in New York. Some viewers accused Lauer of being sloppy, unprepared and lobbing softballs to Trump.
In "What Happened," Clinton wrote she was "ticked off" and "almost physically sick" by Lauer's handling of the event – so "Today" would essentially become must-see TV if the two were going to face off on live television.
Lauer's co-host Savannah Guthrie tweeted on Tuesday that "Today" will feature the "exclusive first live interview" with Clinton, who is in the midst of a tour to promote the book that mocks Lauer. Guthrie didn't specifically say who would be speaking with Clinton, and NBC News did not respond to multiple requests for additional information.
MSNBC'S JOY REID SAYS TRUMP MAKES NOW 'WORST TIME TO BE A HUMAN'
Clinton even wrote that she "fantasize about shaking some sense into Lauer" because when each candidate received 30 minutes of airtime, he spent roughly 10 minutes of Clinton's allotted time asking about her email scandal. He also interrupted the former Secretary of State and instructed her to answer "as briefly as you can" when an Army veteran in the crowd asked about her plan to defeat ISIS.
Meanwhile, Lauer allowed Trump to speak over him. The "Today" star didn't challenge Trump's claim that he was "totally against the war in Iraq" though Clinton mentioned earlier in the night that Trump once told Howard Stern the exact opposite.
Social media exploded with users questioning Lauer's preparation for the event, many pointing out that he didn't seem engaged. A New York Times columnist called it "an embarrassment to journalism," while New York magazine called it "pathetic," "horrifying" and "shocking" all in one review.
"The consensus was that Lauer dropped the ball, and let Trump wriggle out of answering much of anything," Emily Jane Fox wrote in Vanity Fair following the event.
If Wednesday's live interview with Clinton is conducted by Guthrie, Clinton is bound to cross paths with Lauer at some point unless it occurs away from NBC's Rockefeller Plaza studios. There's always the chance that Megyn Kelly could step in to conduct the interview, but if that's happening the network sure hasn't promoted it.
It's bizarre that NBC hasn't announced who is going to sit down with Clinton. Or where it will take place. However, the potential for awkwardness should result in a segment with Clinton that stands out from the countless other interviews she will do while promoting her book.