Helen Mirren calls on women to change the future by voting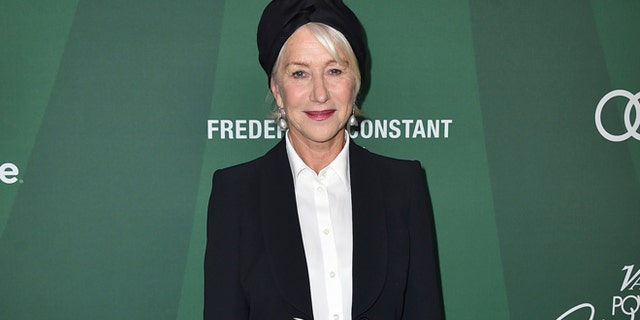 At a Friday event to recognize philanthropic contributions by Hollywood women, Helen Mirren said women can "change the landscape for future generations" by voting in the upcoming presidential election.
"It's time for the best role model in the White House," Mirren said to cheers from the overwhelmingly female audience.
The annual Variety Power of Women luncheon celebrates women's leadership in charitable and humanitarian efforts. Held at the Beverly Wilshire hotel, the event also recognized Miley Cyrus, Scarlett Johansson, Ava DuVernay, Laverne Cox, fashion designer Georgina Chapman and Spanx founder Sara Blakely and the various nonprofits they support.
Mirren, who was honored for her work with the Stuttering Association for the Young, said she used to think such women's events weren't necessary, that women should just "barge their way in" to positions of power.
"I've come to realize this is a fantasy," she said. "Without an organization, without a megaphone to make your voice heard, your voice remains feeble. It is ignored.
"In the next few weeks we will see a real-life example of this," she continued, "as women of all ages and all economic situations, all professions, vote."
Mirren wasn't the only honoree to mention the upcoming election and women's role in it. Johansson, an advocate for Planned Parenthood, said reproductive rights should be "taken off the ballot."
"A woman's right to choose what to do with her body shouldn't just be a women's rights issue," she said."It's the year 2016, and this is a human rights issue."
DuVernay, who works with 1000 Black Girl Books, said it's important to celebrate women, "especially in a society, in our culture right now, where at the highest levels of public discourse there's been such a degradation of women."
The filmmaker said she's inspired by women's rising voices against sexism and sexual assault inspired by recent news events.
"There have been women throughout history who have fought, but so often on the margins, so often pushed out and unheard," she said. "The fact that this is coming to the middle and becoming a national conversation is a positive thing in a really negative time."
Blakely, who pledged in 2013 to donate half of her billion-dollar fortune to help women, said, "the world would be a much better place if the male and female energy on the planet were more balanced."
The Power of Women event recognized one man: Universal Music executive Lucian Grainge, who has promoted numerous women to leadership positions. He said he was inspired by his mother.