Has 'Idol' found a winner already?
[Spoiler alert: The following contains spoilers from "American Idol"]
A 20 year-old college student from Martha's Vineyard has emerged as an early frontrunner on the final season of "American Idol."
Sonika Vaid has all the makings of a champion, judge Harry Connick Jr. declared during Wednesday night's season premiere episode.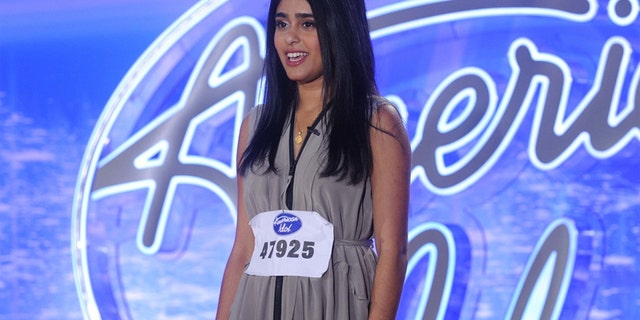 The daughter of Indian immigrants, who failed to turn a single red chair on "The Voice" back in 2013, blew Connick away with a soulful cover of the Carrie Underwood hit "Look At Me."

"That was a perfect performance," Connick praised. "This was one of the only times this season that I saw somebody that I think could win this thing, With a voice like that… That is a pure God given voice."
Sonika is one of a dozen hopefuls who received a golden ticket to Hollywood and are now one step closer to becoming the next Kelly Clarkson or Jennifer Hudson.
Idol champs Taylor Hicks (season 4) and Ruben Studdard (season 2) were on hand to mingle and offer advice to auditions in Atlanta and Denver.
The two hour telecast also included a "surprise" audition by Kanye West.
Here's a look at who else is advancing to the next round:
Michelle Marie Lecza, 15
The adorable high schooler from Daytona Beach, Florida has been dreaming about her audition since she was two. "American Idol is what I have based my life off of," she told the judges before earning three "yes" votes for her performance of LeAnn Rimes' "Blue"
Josiah Siska, 18
The golf course maintenance worker from Dacula, Georgia brought his voice way down low for Johnny Cash classic "Ghost Rider." "We have never heard anything like it," Connick told him.
Lindita, 26
A personal trainer, originally from Kosovo, she lost 150 pounds in preparation for her audition. Keith Urban loved her cover of "This Is A Man's World," exclaiming: "It was great. I was really surprised."
Lee Jean, 15
The student from Bluffton, South Carolina shared a painful story of losing his older brother, DJ, before blowing the judges away with his interpretation of "Icy Fire." "You are so cute and so talented," Lopez gushed.
Jeneve Rose Mitchell, 15
One of the most memorable acts in the competition, this teenage cowgirl lives "off the grid" with her parents on a remote mountainside in Colorado. The judges loved her version of "Chainsaw" by The Band Perry. "That was some crazy stupid funk," Connick exclaimed.
Reanna Molinaro, 24
The police officer from Hobbs, New Mexico placed Connick in handcuffs before belting out Patsy Kline's "Leavin' On Your Mind." He was freed after voting yes and sending her through to Hollywood.
Shevonne Philidor, 24
This was the sixth "Idol" audition for the Tampa based musician-DJ. (In 2011, she advanced to the Vegas round of "America's Got Talent"). "You have a nice, gritty quality to your voice," Lopez said before awarding her a golden ticket.
Kory Wheeler, 27
The barista from Jamestown, Tennessee is a familiar face to the judges. He made it to Hollywood in 2015 and hopes advance even further this season.
Jordan Sasser
The North Carolina worship leader auditioned with his wife, Alex, but only he advanced. His version of Celine Dion's "All Coming Back To Me" probably sealed the deal with judges, but bringing along adorable daughter Westlund sure didn't hurt!
Joshua Wicker, 25
A Ryan Gosling look-alike, Joshua was three weeks away from the birth of his first daughter when he earned his ticket to Hollywood with a new take on the Rihanna song, "Stay." "That was compelling," Connick told him. "If it's compelling that is all I care about."
Shelbie "Z" James
The hairdresser from Sumiton, Alabama scored three yes votes by performing "Last Night" by Carrie Underwood.
Auditions continue in Little Rock, Arkansas and San Francisco, California Thursday night on Fox.