Gymnast Laurie Hernandez shows off her dance moves during White House visit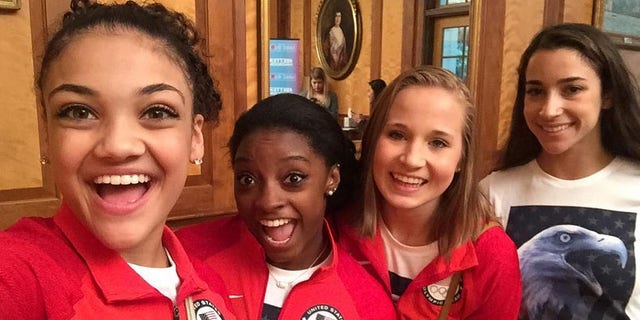 Few people can say they took "Dancing with the Stars" to the White House. But there was 16-year-old gymnastics ace Laurie Hernandez on Thursday, twirling and kneeling in the State Dining Room of La Casa Blanca.
The Olympic gold medal winner and current contestant of "Dancing with the Stars" showed off her moves while four of the "Final Five" toured the official residence of President Barack Obama.
Hernandez, along with teammates Simone Biles, Aly Raisman and Madison Kocian and members of the U.S. Paralympic team attended a ceremony with Obama honoring their performance at the Rio Olympics. Gabby Douglas did not attend the ceremony because she recently had her wisdom teeth pulled.
The four took over the White House Instagram account, taking selfies and posing as they stretched.
"Hi @Instagram! The #FinalFive here, taking over the account as @TeamUSA visits the White House today for a ceremony with President Obama," the post said. "We were so honored to represent the United States in #Rio2016 and we couldn't be more excited to be here! Stay tuned as we show you what's up at the White House. @usagym #TeamUSA"
The White House brought out Hernandez's silliness. The dancing queen also took a video of herself blowing a kiss to a marble bust of former president Abraham Lincoln.
"Kisses to my boy Honest Abe" she wrote on Instagram.