Gymnast Laurie Hernandez gets another celebrity surprise in Rio after Zac Efron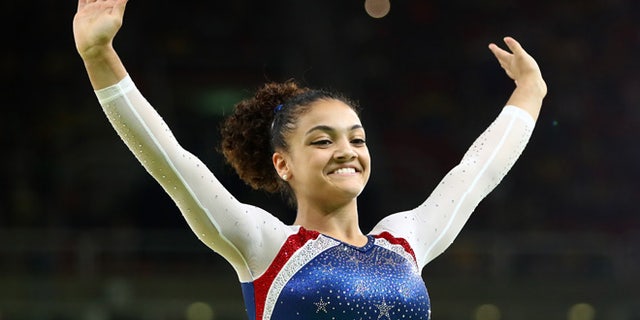 NEWYou can now listen to Fox News articles!
Step aside Zac Efron, Laurie Hernandez has her eye on another man.
The 16-year-old Team USA gymnast who took a gold medal and a silver medal at the Rio Olympic games has long had a crush on Maroon 5 singer Adam Levine.
While she didn't get to meet Levine in Rio like she did with Efron, the singer did send her a personalized message.
"What's up, Laurie? This is Adam Levine. Just wanted to say hello. Congratulations, you're kicking butt out there, and we've been watching you from the States. Excellent work," Levine said in a short video aired during a Ryan Seacrest interview with Hernandez on NBC that aired over the weekend.
It started with the host asking Hernandez who her favorite coach on the singing competition "The Voice" is.
"So Adam keeps winning, so I like Adam because of that. But Christina [Aguilera] is awesome even when I was younger just in the gym my coach would put on a Christina CD, and we would listen to her the whole time," she said.
"Thank you so much, Adam! That was so cool," the gymnast replied to the Levine.
This little surprise – which garnered some giddy laughter from Hernandez – came on the tails of Efron flying to Brazil to surprise the U.S. women's gymnastics team, especially standout star Simone Biles.
Like us on Facebook
Follow us on Twitter & Instagram