Gossip site Gawker in trouble after outing married exec at rival publisher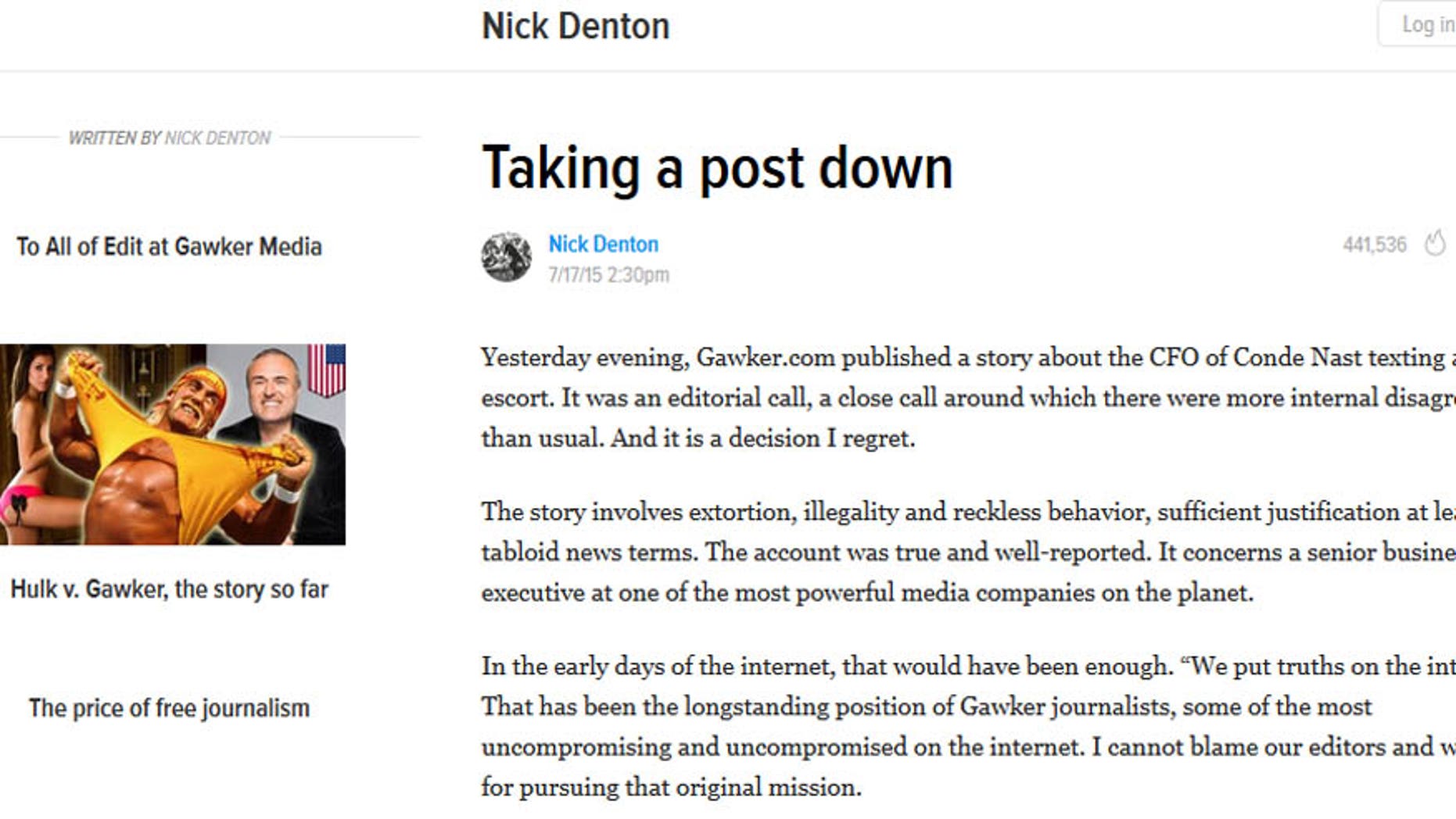 NEW YORK – A gossip website is being taken to task for outing a private citizen, but the site's editorial staff seems more upset that the story was removed from the site than they do about it possibly ruining the unsuspecting man's life.
Last Thursday, Gawker published a story that outed a married executive at the parent company of a rival website, Reddit, while protecting the identity of the male escort who exposed him. Its readers roundly excoriated Gawker for the story, wondering why the non-famous person's personal life was news at all.
On Friday, Gawker founder and CEO Nick Denton took down the story. On Monday, two editors resigned in protest. On Tuesday, Denton held a meeting with the site's board and editorial staff. Gawker senior writer Rich Juzwiak was there and tells told FOX411 the mood of the newsroom since the post's retraction has been like there was a death in the family.
"Today it felt like someone had died and we're mad about it," Juzwiak said. "The story at Gawker is absolutely about taking down the post. That act has turned this into something people would have denounced and would have called as 'Gawkery' and turned it into a major news story. Nobody from editorial that I've talked to agrees with the decision to take that post down."
But while the Gawker staff may feel it was the post's removal that was infuriating, others, like VP of Business and Culture at the Media Research Center Dan Gainor, say it is the content of the post that is despicable.
"The article was sleazy which essentially defines Gawker," Gainor said. "They would have done the same if they caught him using a hook-up site to have sex with a female porn star. Gawker traffics in causing pain to people through public humiliation."
The debacle comes as Gawker prepares to fight Hulk Hogan in court over publishing a video of the star having sex with a friend's wife. If they lose, they could owe Hogan $100 million, and Denton has said they'd be finished.
Denton said in a note to staff that he believed the "outing" post was legally defensible, but lawyers we spoke to said the individual and his company, the publishing giant Conde Nast, could have a case if they can prove the story was not newsworthy.
"If the facts as reported are true, a claim for defamation generally won't succeed, even if the facts are true," said Joshua Bressler, Principal at Bressler Law PLLC, an intellectual property and Internet law firm. "However, some states recognize a claim for public disclosure of private facts. In such a case, if disclosure of the information without consent would be considered highly offensive to a reasonable person, and if the disclosure is not 'newsworthy,' such a claim could succeed."
FOX411 reached out to Conde Nast but did not receive comment.
As for Gawker's future, if you are to believe some of the comments on the site, many former readers say the post was so bad, they'll never go to the site again. But staffers hope it's not the end.
"Personally, I speak for a lot of people, before last Thursday we had a strong set of beliefs of the good we could do with Gawker and you don't lose that overnight," Juzwiak said. "But that faith has been shaken."
Gainor for one hopes the tabloid journalism Gawker trades in is over.
"Any time top editors quit, other employees job hunt. Especially given their concerns over Gawker's commitment to what it claims is journalism," Gainor said. "But I certainly hope they all quit. The world would be a better place."
Gawker's press office did not return emails for comment.