'GLOW' star Alison Brie opens up about best friend Brie Larson: 'It shows how in-synch we are'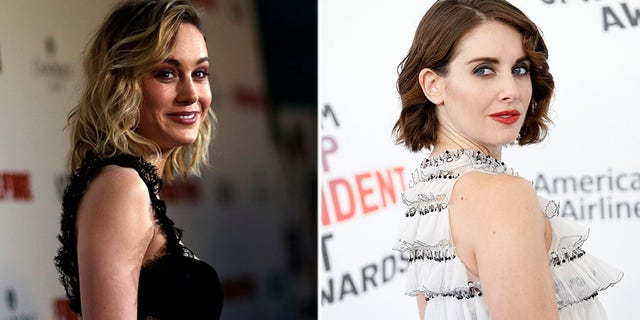 LOS ANGELES – Alison Brie and Brie Larson set social media ablaze on Tuesday when they each shared an Instagram photo of themselves working out together complete with their own witty caption.
"It's like you're dreaming about gorgonzola cheese when it's clearly BRIE TIME, BABY," the "GLOW" star captioned the image. Her fitness bestie captioned the same image with, "ALISON BRIE LARSON is coming for ya."
It didn't take long for their fans to come up with their own funky puns for the two actresses, and Brie, 35, told reporters she was happy with the response.
"I'm glad people enjoyed it. Total coincidence – it just shows how in-synch we are," she said with a smile Thursday during the PaleyFest Fall TV Previews of "BoJack Horseman" in Beverly Hills, Calif., in which she stars in alongside Aaron Paul.
"I've known Brie [Larson] for years. She actually guest-starred in a couple episodes of 'Community' when I was on that show, and she's worked with my husband [Dave Franco] in '21 Jump Street,' so I've known her for a long time."
The "Community" alum explained that she and Larson both utilized the same trainer for their rough and tough roles in their respective projects.
"She started training with my trainer Jason Walsh, who I've been training with for years and I've been going with hard him for 'GLOW,' and she's been training with him for 'Captain Marvel' – so we both, I think, have been inspiring each other in the gym and kind of pushing each other to go a little harder."
She continued: "The other day we were wearing semi-matching outfits, so we're like, 'We gotta get a photo!'"
When asked by Fox News whether we could expect to see a project with the two of them, perhaps a nighttime show titled "The Evening Bries," the former "Mad Men" actress perked up and simply replied, "Oh! Well, that's a great band name!"