Glenn Beck accuses Brian Stelter of 'Trump Derangement Syndrome,' says respect for CNN star 'is fading'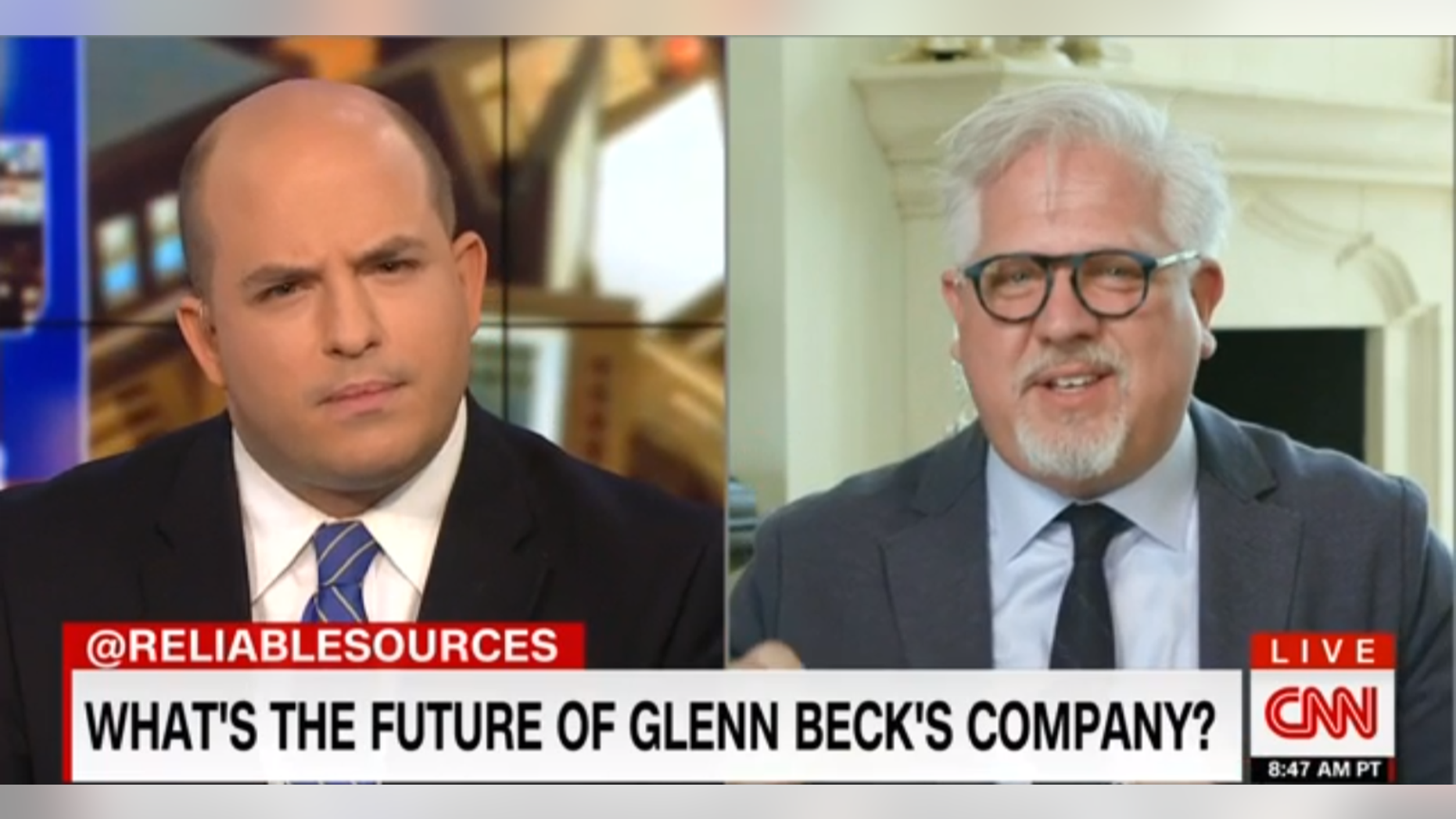 Glenn Beck said his respect for CNN's Brian Stelter "is fading," and accused him on his Monday radio program of having "Trump Derangement Syndrome" when explaining why he abruptly walked away from an interview with the "Reliable Sources" host.
Beck, conservative commentator and CEO of TheBlaze, walked out of a CNN interview Sunday morning after he was questioned by Stelter about the future TheBlaze.
Beck, a former Fox News host, said he reads Stelter's nightly media newsletter and has seen the increase of "Trump Derangement Syndrome" in his work. Despite what he sees as an anti-Trump bias, Beck told his radio listeners that he was "foolish enough" to go on the CNN program.
Beck said he was irked before his segment because he "made the mistake" of "actually watching the show" prior to his interview. Beck was peeved that George Takei compared the border to Japanese internment camps and that TIME Magazine's top editor was able to defend a misleading cover, with neither getting pushback from Stelter.
"I was asked to go on and talk about why the media just isn't heard by the right," Beck said, explaining that Stelter's show was "example after example after example" of why nobody is listening to the media.
"You want to know why people aren't listening to you? Watch your own show," Beck said.
Beck explained that he was asked to speak about the border and why the press can't reach the trump voters, but instead Stelter asked about a recent Daily Beast report which said his conservative media company "imploded" after it underwent another round of layoffs.
"Wow, Brian. Thanks a lot. I think that's the most ridiculous question I've ever heard," Beck told Stelter on Sunday morning. "I'm sitting here getting ready to talk to you about the detaining of children and parents, and trying to break families apart."
"We want to stop it and you want to play those games? Have a nice day," Beck said, before removing his mic and walking off camera.
After Beck's abrupt departure, the media host asked, "What game did I just play?"
Beck addressed the Daily Beast report on Monday and said it's "not a story" and is simply the way business works in the modern landscape after naming numerous companies – including CNN – that have laid off employees in recent memory.
Beck said his "time is more valuable" than to appear on Stelter's program if he's simply going to cater to the left.
"I would have rather had been having breakfast with my kids," Beck said. "It's a waste of time."
Beck declared that he is going to stop engaging with CNN when it comes to President Trump because "everyone is on the same page" throughout the company and conservatives aren't given a fair opportunity.
TheBlaze founder urged CNN to reach out and have an "honest" conversation about President Trump. During Sunday's interview, before he walked off, Beck criticized CNN by saying it was dividing the nation by making decisions over immigration coverage based on ratings.
Stelter did not immediately respond to a request for comment.
Fox News' Nicole Darrah contributed to this report.