George Strait goes after country radio in 'Kicked Outta Country'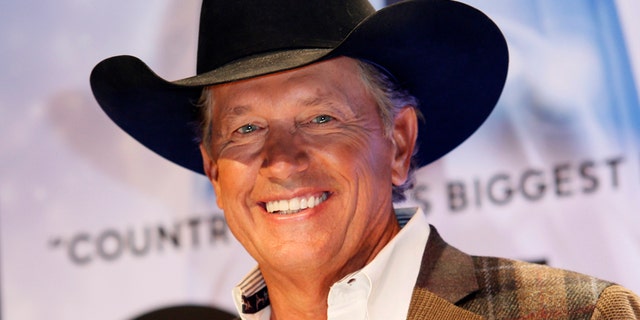 George Strait certainly can't be accused of playing it safe with one of the new songs on his newly-released box set. The country icon takes country radio to task in a track titled "Kicked Outta Country."
Strait wrote the song with Jamey Johnson, and it was inspired by the singer-songwriter, who is critically acclaimed but receives very little airplay. Johnson co-wrote one of Strait's biggest hits, "Give It Away," but despite a record-breaking string of 60 No. 1 hits, Strait's most recent album, 2015's "Cold Beer Conversation," got little attention from country radio, with neither single from the project even making the Top 20.
Johnson inadvertently inspired the new song with a chance remark at a charity golf tournament where he and Strait performed.
"So I came off the stage and Jamey says, 'So when you going back into the studio, I sure would love to send you some songs,'" Strait told the audience at a recent concert to celebrate the new box set (quote via Saving Country Music). "I said 'Sure, I'd love to hear them, but they probably won't play them on the radio anymore.' He goes, 'Yeah, you know they kicked me out of country too.' I got to thinking about that the next day, and I thought, 'You know what, that's a song title there.' I texted Jamey and I said either you're going to write it, I'm going to write it, or we're both going to write it together. So we wrote it together."
More From Taste of Country
The song pulls no punches in recounting what it's like for an artist whose work doesn't fit into radio formats.
"I just got the news today, the record I sent them they threw it away / It don't fit the format, don't make the list / They said I'm too old, won't even be missed," Strait sings in the opening lines.
He goes on to detail a number of legendary artists who eventually found their career at radio in decline, noting that a lack of radio support didn't prevent any of them from going on to make music that was just as meaningful as it alway had been.
"It don't really matter, because I ain't gonna change / 'Cause getting kicked outta country won't hurt a thing," Strait reflects at the end of the song.
"Kicked Outta Country" appears on the new "Strait Out of the Box Part 2" box set, which chronicles Strait's career from 1996 on and is available exclusively at Walmart.