George Lucas receives Women in Film honor, urges 'twice as much money' be spent on our veterans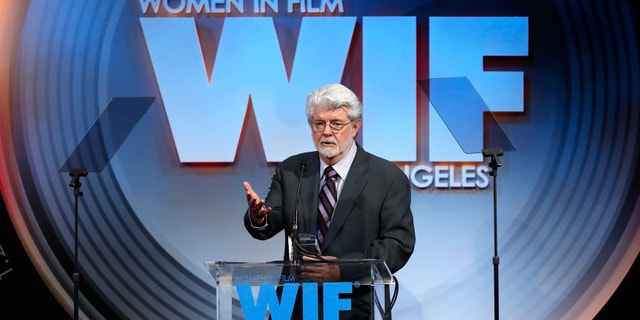 LOS ANGELES – Once again Women in Film brought Hollywood's best together for the Audi-sponsored 2013 Crystal + Lucy Awards in Beverly Hills on Wednesday night to celebrate groundbreaking women in a notoriously male dominated industry.
But one recipient who received a standing ovation was actually a male. Legendary director and producer George Lucas was called to the stage to receive the Nora Zarky Humanitarian Award, and he looked somewhat humbled by all the attention.
"It's an important award to me... I've worked with lots of women in my company. I kind of like it," the famed "Star Wars" and "Indiana Jones" mastermind told the audience of the award, which is given to an individual "that has demonstrated enlightened support for the advancement of equal opportunity for all and devotion to the improvement of the human condition." "It is comfortable and less combative. I've now got a daughter embarking on this crazy [film making] world, now she's doing the struggle everyone does. It's hard in the film business. It's hard in any business."
But in the video montage highlighting Lucas's humanitarian efforts throughout his almost five-decade entertainment career, another near and dear issue was raised: his devotion to mentoring and helping our veterans find work within the showbiz arena.
"We need to spend twice as much on veterans and helping them in the workforce," Lucas urged, blended with footage of him personally working to mentor a young veteran.
The Women in Film organization, which was additionally celebrating its 40th anniversary, also honored the actresses of "Mad Men" for Excellence in Television, and Laura Linney with the Crystal Award for Excellence in Film. The Kodak Vision Award was granted to cinematographer Rachel Morrison. The Women in Film Max Mara Face of the Future Award was handed out to Hailee Steinfeld and "Bling Ring" director Sofia Coppola went home with the Dorothy Arzner Directors Award.
However, the key theme of the glitzy and glamorous night was the struggles women in Hollywood face. The event focused on inequalities, salary discrepancies and lack of strong, leading ladies both in front of and behind the lens.
The night also drew on recent statistics from The Annenberg School for Communication & Journalism's annual survey of how women are represented in the 100 top-grossing movies. The study found that the percentage of female characters has declined to a five-year low to just 28.4 percent, women make up only 4.1 percent of directors, 12.2 percent of writers and 20 percent of producers.
"It is a problem, it's unhealthy, the slow pace of progress for women... The pay seems to be worse than it was 20 years ago. The stagnation of progress troubles me greatly," Linney said she addressed the audience, encouraging women to mentor other women, discuss money, fears and the aging process. "The politics of our business can be paralyzing, especially to an artistic soul."