Genie Bouchard returns to pose in racy snaps for Sports Illustrated Swimsuit Issue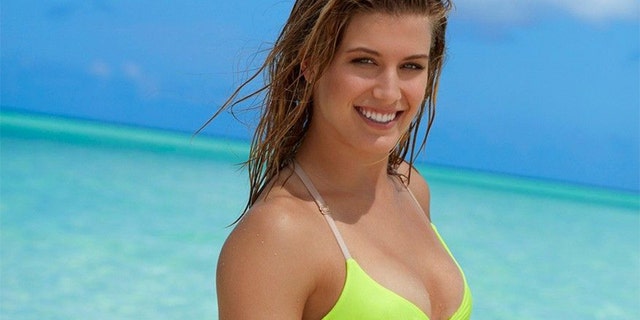 NEWYou can now listen to Fox News articles!
Genie Bouchard is back.
The Canadian tennis superstar made her second consecutive appearance for Sports Illustrated's Swimsuit issue for 2018. And the 23-year-old insisted posing for the racy snaps was a breeze.
"It was definitely easier," Bouchard told the magazine. "I was much less nervous this time around. I felt I had experience from my first SI shoot which helped me for this second one."
Still, Bouchard admitted that wearing nothing more than a teeny bikini isn't always so easy.
"At the beginning of the shoot, it's always hard – wearing almost nothing definitely makes you self-conscious," Bouchard admitted. "But the photographer was amazing; he was so nice and supportive – he made me feel comfortable right away. I realized I was there for a reason, and this gave me the confidence to be free and to also have fun during the shoot!"
Bouchard, who left little to the imagination, said she had the full support of family, friends and fans, just like the very first time when she bared nearly all for the magazine.
"I hadn't told anyone I was going to be in the SI Swimsuit – literally three people knew I did the shoot – so the first reaction from my friends and family was just complete shock!" she reflected. "They had no idea! Everyone was so supportive and thought the pics looked great. And proud that I could crossover and achieve something so big like this outside of the tennis world.
"As for my friends – they went completely nuts. They had never seen me in a shoot like this before so I think they were really happy."
Back in 2017, Bouchard told Fox News she felt uneasy when it came time for her close-up.
"My first reaction was just being shy because it was my first time I did a shoot like this," said Bouchard. "It was also the first time I did a shoot topless. But I've gotten used to it by now so it's all good!"
Bouchard added, "I woke up at 5 a.m. and when I got to the fitting to put on the bikini, the stylist said, 'No, take your top off. The first shot is going to be topless. At 7 a.m. I didn't have a top on for the first shot. I just kept thinking, 'What did I get myself into?!' But by the end of the day, I didn't care anymore. I was changing in front of people. They've seen it all!"