Gene Simmons wants to see Mitt Romney as 2012 GOP nominee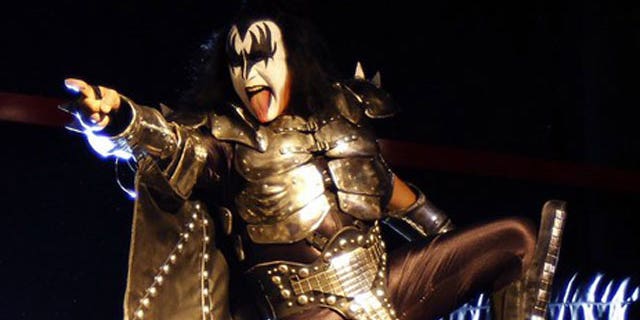 Who said Sundance was just for independent films?
Rock icon Gene Simmons was just one of the many stars plugging something of a different kind at the Park City, Utah-based film festival this year His venture is Ortsbo.com, a real-time experimental language translation platform, which enables folks from all the around the world to engage in conversation in their native language.
But technology and tunes aside, there is something else the "KISS" star likes to discuss – politics.
"I want a real political and economic debate. On the one hand, you've got President Obama, who I voted for, last minute. I wasn't going to vote for him because he didn't have a good resume. He only had two years of local political experience, he's never run a company, he'd never been overseas, and he didn't know any of the political leaders. I voted my conscience, based on some sort of - well, it's the right time in history," Simmons told FOX411's Pop Tarts column prior to Tuesday's Ortsbo-powered Live Q&A with comic book legend Stan Lee during the Sundance Film Festival. "But I want Mitt Romney and Barrack Obama to face off on the economic and political issues of our time. I want a real dialogue, and I, as a private citizen, want to be able to vote my conscience . More often than not, I want business men and business women in politics, not college professors."
The rocker also gave his two cents on why the GOP primary seems to have become a fierce competition focused on more on morality than economic concerns.
"That's because 50 percent of the population are women. They are interested in if the candidate is married, or not –I actually don't care," he continued. "I want government to become business, because countries aren't businesses."
And although Sundance founder Robert Redford last week vowed that the 34-year-old indie festival, at its heart, was for the "99 percent" and served to share their stories – Simmons found such a remark a little off-the-mark.
"Redford means well, he's a great guy. But it's a bit hypocritical, since he's part of the one percent, to address the 99 percent. The truth is that Sundance represents America, period," Simmons said. "Either we are all Americans, or you're going to fall victim. This is the reason why the old Roman Empire died, it fell from within. Division from within is one of the stupidest things you can do. So demonstrate all you want, say 'I don't like this, I don't like that' – then basically shut up and vote; get somebody you like. If you like Mitt Romney, or President Obama, or Ron Paul - vote whoever it is you like, because that's how you get power."
Simmons added that his platform will help Americans to do so.
"Use Ortsbo to communicate your political message to anybody you'd like, equal access to everybody, that makes it 100 percent not 99 percent," he added."Ortsbo is the universal language of planet Earth - it's the way people can communicate, without having any communication barriers."