Gene Simmons files to trademark 'rock on' hand sign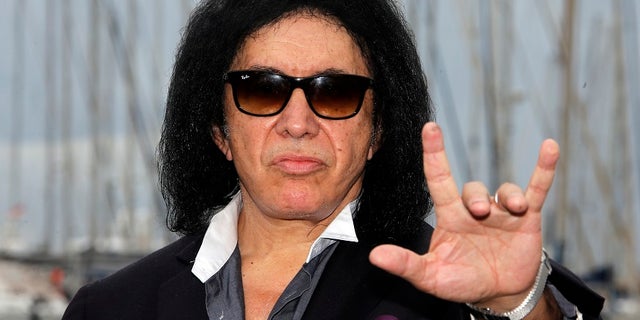 NEWYou can now listen to Fox News articles!
"Kiss" rocker Gene Simmons has filed an application Friday with the U.S. Patent and Trademark Office to trademark the "rock on" hand gesture.
Simmons, whose real name is Chaim Witz, wants to trademark the hand sign for "entertainment, namely, live performances by a musical artist; personal appearance by a musical artist," according to Planet Rock.
FRAN DRESCHER, EX-HUSBAND EXPLAIN WHY 'THE NANNY' ENDED
The widely-used hand sign is when the index and pinky fingers stick up while the middle and ring fingers curl down. The thumb can either stick out or curl in on top of the middle and ring fingers.
Simmons said he was the first person to use the hand sign commercially in 1974 while on Kiss's "Hotter Than Hell" tour.
The cover art on the Beatles' 1966 "Yellow Submarine/Eleanor Rigby" single also features the British band making the hand gesture.
Simmons may have a tough time receiving the trademark, according to the Washington Post. The gesture has been traced back as far as 1897 in Bram Stoker's classic "Dracula."
MARY STEENBURGEN SAYS TED DANSON HELPED HER FIND HAPPINESS AFTER TRAUMA
Some credit the hand sign to Ronnie James Dio, the rocker who succeeded Ozzy Osbourne in Black Sabbath. Dio flashed the sign as a way to distinguish himself from Osbourne who was known for waving double peace signs, according to the Florida Times-Union.
The hand gesture also means "love" in American sign-language.