Former 'Jersey Shore' star Angelina Pivarnick hopes 'Couples Therapy' works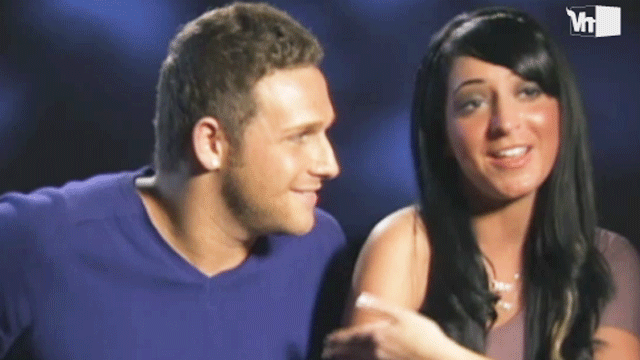 The Situation's reportedly in rehab, and a pregnant Snooki has signed on for a sixth season of club crawls on the "Jersey Shore." But the ever-hated Angelina Pivarnick – who's been accused of cheating on her fiancé, faking a pregnancy and instigating violent fist fights – has had enough drama. She says it's time to come clean.
"Last year when I had a miscarriage, the media was really torching me," she said Tuesday. "I was curled up in a ball, crying all the time. I was miserable."
Starting tonight, Pivarnick, her boyfriend Chris Nirschel and four other celebrity couples will take a seat on the couch of psychologist Dr. Jenn Berman in VH1's new show "Couples Therapy." The show was a turning point for Pivarnick, she said, because she finally understands why she made the mistakes she made.
"My father did some awful things to me, my mother and my sisters," Pivarnick told FOXNews.com. "So it's very hard for me to trust men."
She said she barely speaks to her father today, and her middle sister recently went to rehab, which she believes is a result of her father's actions.
Her current boyfriend, Chris, a "Food Network Star" finalist, hasn't made things easy either. "It was very challenging to go through this with him," she said. "Chris is a wild guy. He likes to party every night." She explained to him that she has trouble trusting men. "There were times I didn't believe anything he said."
She said the experience with her former fiancé David Kovacs also left her scarred. After reports that Angelina cheated on him multiple times, the investment banker broke his engagement to the "Jersey Shore" star last April, despite the fact that she told him she was pregnant with his child.
"I got a text from a firefighter who actually apologized for sleeping with Angelina," Kovacs said at the time.
"It was very hard," Angelina recalled. "He wasn't there for me when I needed him the most."
Snooki and other cast members also haven't been there for Pivarnick. After countless fights on the show, which ended with Pivarnick being ousted from the house in Season 2, Pivarnick doesn't speak to anyone anymore. But she's tried.
"I reached out to Snooki about her pregnancy, and she didn't respond," she complained, sounding hurt. "I think it's very immature. I'm trying to move on from the problems we had in the show. She should have responded."
Though Pivarnick was surprised by the pregnancy announcement, she was even more surprised that Snooki agreed to appear on the upcoming sixth season of "Jersey Shore" while she's pregnant. "I think it's unbelievable," she said. "She's going to be in clubs. What if God forbid someone hits her? I assume she won't drink. But she would be a fool to go into clubs pregnant. I would never do that."
Dr. Berman's not surprised that reality TV stars are often plagued by hurt and disappointment after the show ends.
"When you go on a reality TV show, you become a caricature of yourself. You're the drunken girl or the vixen," she told FoxNews.com. "It's a mixed bag. These shows open doors, but they also invite a high level of scrutiny."
As a result, the 24-year-old Staten Island native was hesitant to go on "Couples Therapy" – so were other cast members, including Vienna Girardi of "The Bachelor" and rap star DMX.
"People give Angelina a hard time," Dr. Berman said. "But I think they'll start to understand why she does what she does when they see the show."
Pivarnick hopes so. "I'm glad I did 'Jersey Shore,' but I'm also sick of being associated with it," she said.
Right now, she admitted, she and Chris are "fighting a lot. But I learned that I don't need a guy to make me happy. God forbid me and Chris break up, I'll take time for me … for Angelina."