'Finding Bigfoot' explores new locations in ninth season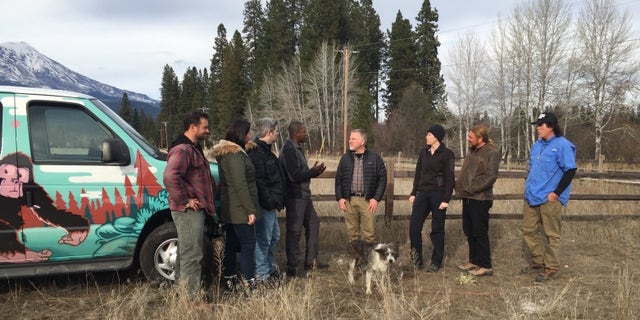 NEWYou can now listen to Fox News articles!
Animal Planet's hit show, "Finding Bigfoot" returns this season as the Bigfoot Field Research Organization (BFRO) investigates new theories and never before squatched locations as they share the journey with another group of bigfooters. Ranae Holland— a member of BFRO who does not believe in Bigfoot— and Cliff Barackman—a sasquatch field researcher— spoke with FOX411 to shed some insight into what viewers can expect from this season.
"We feature the weirder paranormal side of bigfooting," Barackman explained. "I don't think there is anything supernatural or spiritual about Sasquatch in anyway, I think they are a perfectly normal species of biological animal, but so many people out there do think there is something on the weird side going on with them. We thought it was about time to explore and look at some of those things, so we invited in a team who specialize in the paranormal side of things and we took them bigfooting."
Although Holland does not believe in Sasquatch, she does have hopes that viewers form their own opinion of whether or not they believe in the man/myth/legend.
"I don't believe it's a biological undiscovered species," Holland said. "I think what is most important and what I want our young viewers to be watching for is that it doesn't matter what four people on television are saying; it's up for you to decide for yourself. I want to promote kids to have critical, objective, independent thinking…Think independently and decide for yourself and be open-minded."
Barackman explained this season the team explores completely new locations that people wouldn't necessarily think bigfooting occurs.
"With this coming season you are going to see a lot of newer aspects of bigfooting that we haven't explored necessarily publicly," he revealed. "We are exploring other things that are going to hit a little closer to home—we get to go bigfooting on the Klamath Reservation in Southern Oregon—no one has ever done that before. We go bigfooting in Mississippi; no one thinks about Mississippi as a being a Bigfoot sate—so again we are exploring the depths of bigfooting even further."
And Holland shared that this ninth season was probably the most special and fun as the team members got to share the bigfooting experiences with family.
"The episodes we have coming up in North Carolina, we are all with friends or family members," she said. "And bringing them into our world to give them insight into the last five to six years of our lives have been. I came out with my cousin and it was probably the most fun I have ever had!"
"Finding Bigfoot" premieres March 31 on Animal Planet.