Felicity Huffman offered prison advice from Abby Lee Miller amid college admissions scandal guilty plea
NEWYou can now listen to Fox News articles!
"Dance Moms" star Abby Lee Miller offered some advice to Felicity Huffman after the "Desperate Housewives" actress pleaded guilty to charges for her involvement in a nationwide college admissions scam.
"My advice would be, take a deep breath and if you need a consultant, I'm your girl," Miller told "Inside Edition" on Tuesday.
Huffman announced Monday she was pleading guilty to charges of conspiracy to commit mail fraud and honest services mail fraud for her involvement in the bribery scheme. The actress said she accepts "full responsibility" for her actions.
Huffman now faces four to 10 months in prison, Us Weekly reported.
FELICITY HUFFMAN TO PLEAD GUILTY IN COLLEGE ADMISSIONS SCANDAL: 'I AM ASHAMED OF THE PAIN I HAVE CAUSED'
If she does end up serving prison time, Miller, who finished an eight-month stint in federal prison for bankruptcy fraud in March 2018, told "Inside Edition" that Huffman should "keep a low profile" and be kind to others.
"Be respectful of everyone, keep a low profile, be kind to people. Tell your story, but listen," Miller advised.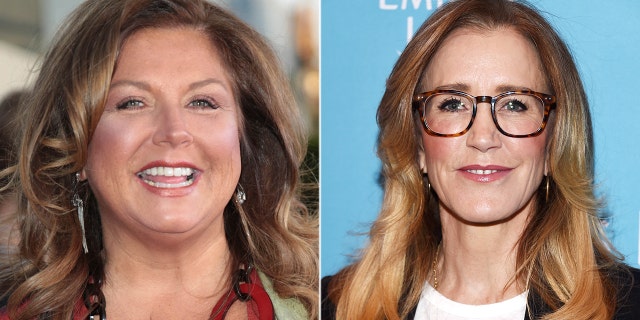 The reality star said Huffman should be worried about how the prison guards may treat her because she is a "big star."
"She's a big star and I think when she gets there, they're going to be out for her. And I don't necessarily mean the other inmates, I think they will welcome her with open arms," Miller told "Inside Edition." "It was definitely the guards [who messed me up]."
"[The guards are] supposed to call you by your name or by your number. They would say, 'Where's that Dance Moms lady? Where's that dance lady? We're going to get her,'" the reality star added.
LORI LOUGHLIN COULD NOW FACE UP TO 40 YEARS IN JAIL AFTER NEW CHARGES, REPORT SAYS
Huffman, "Full House" actress Lori Loughlin and her husband Mossimo Giannulli were among the 50 people arrested in March for allegedly paying bribes to William "Rick" Singer to help their children get into elite universities by altering college entrance exams and faking athletic profiles.
The "Desperate Housewives" star paid $15,000 to have someone secretly alter her daughter's answers on the SAT, officials said.
"My daughter knew absolutely nothing about my actions, and in my misguided and profoundly wrong way, I have betrayed her. This transgression toward her and the public I will carry for the rest of my life. My desire to help my daughter is no excuse to break the law or engage in dishonesty," Huffman said in a statement Monday.
Loughlin and Giannulli, along with 14 other parents, were charged Tuesday with a "second superseding indictment with conspiring to commit fraud and money laundering." They reportedly could face up to 40 years in prison — a maximum of 20 years for each of the charges.
Fox News' Mariah Haas and Sasha Savitsky contributed to this report.