Fat transfer and extreme breast pumping: How celebs really lose post-partum pounds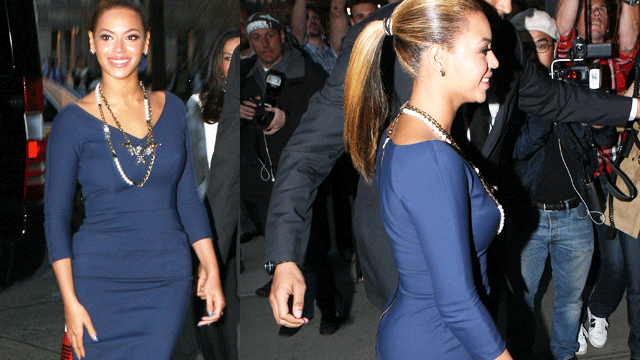 It's hard to believe that Beyonce gave birth just 10 weeks ago. The songstress had jaws on the floor at a New York fundraiser for President Obama this week, flaunting her flab-free figure in a body-hugging blue dress.
Beyonce joins the likes of Victoria Beckham, Miranda Kerr, Heidi Klum, Jessica Alba, Halle Berry, Angelina Jolie and Bethenny Frankel; celebrity moms famous for showing off miracle post-partum slim downs.
PHOTOS: Beyonce looks great post-baby.
But according to multiple industry insiders and experts, celebrities don't always pop the pregnancy pounds the way they say they do. There is often a lot more than yoga and a low sodium diet going on behind the scenes.
"A lot of celebrities resort to very extreme methods to drop the baby weight. I highly doubt most celebrities are losing weight the healthy way," Dr. Carson Liu, certified bariatric and gastrointestinal surgeon, told FOX411's Pop Tarts column. "There is a tremendous amount of pressure on Hollywood mommies to lose weight. They're not viable again until they lose the weight. It's expected of them."
One well-placed entertainment industry figure said it's not uncommon for stars to starve themselves or undergo a quick liposuction session in an effort to squeeze back into their size zero designer jeans. Another said new Hollywood mommies routinely partake in fat grafting in particular to re-shape their bodies.
Otherwise known as "fat transfer," this process involves surgically removing fat from one area of the body with micro-liposuctioning methods and transplanting it to another.
"Many women find that their post-pregnancy bodies are unresponsive to diet and exercise and A-list celebs who are under pressure to get their pre-pregnancy bodies back virtually overnight. I often remove fat from the abdominal region and transfer it to the buttocks to augment and return the fullness and roundness to the derriere," said plastic surgeon Dr. Constantino Mendieta. "This is a great option for women looking to remove stretch marks – and re-contour and flatten the stomach."
A great option if you have $13,000 to spare.
Another source said celebrities also manipulate their breast feeding programs to lose weight.
"Most of them pump all day and night to ensure the weight falls off, exclusive of any pain," the insider said. "Celebs have great bottle pumping facilities too. And it works."
Out source said some stars even use their placentas to boost after-birth weight loss efforts. Known as the "HCG Diet" (human chorionic gonadotropin is a hormone naturally produced by the placenta in pregnant women), it involves combing daily injections with a low-calorie diet. According it the HCG Diet Info website, it alerts the hypothalamus, the area of the brain that affects metabolism, to mobilize fat stores.
"HCG has been shown to promote colon cancer when used for extended periods of time, and the HCG diet calls for 500 calories a day. This is extreme and dangerous for any woman – let alone a woman who is probably breastfeeding and needs sufficient calories for both herself and her baby," explained Dr. Liu. "HCG is too extreme and too dangerous."
We reached out to several distributors of HCG, however none responded to a request for comment.
According to multiple sources, many new movie moms turn to prescription medications like Phentermine, Adderal and/or Xenical which are known to be potent appetite suppressants, to whittle their middles in the blink of an eye. And Tosca Reno, author of the best-selling "Eat Clean Diet," said high-profile people are notorious for turning to extremes detox diets like the Master Cleanse, which involves consuming nothing but water flavored with maple syrup and cayenne pepper for days on end.
"The trouble with some of these quick fixes is the tremendous nutritional upset these attempts at weight loss can cause, particularly with electrolyte imbalance, protein catabolism and even metabolic interruption," she noted.
Above all, Liu said it's critical for average, non-celebrity moms to realize that post-pregnancy weight loss isn't as easy and doesn't happen as quickly as many Tinseltown types make it seem.
"The healthiest way is to watch what you eat, breastfeed if you are able, and exercise for an hour a day," he advises. "For new moms, it also important that they get sleep to lose weight. This can be very difficult for the average, non-celebrity mom. Average women don't have nannies at their disposal who will change the diaper or feed the baby in the middle of the night. Celebs probably lose weight faster because they're getting a full night's sleep."