'Family Feud's Steve Harvey sued for charity fraud by ex-employee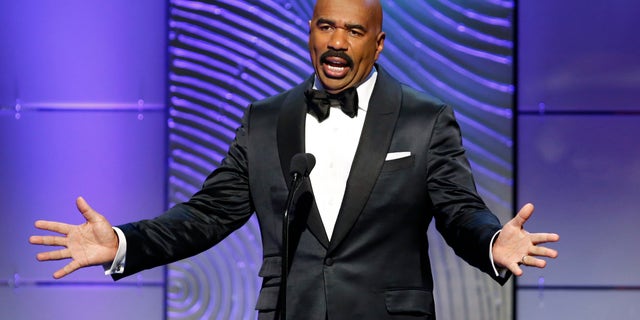 Steve Harvey is being sued by a former employee who claims the "Family Feud" host ripped him off in a bad deal, allegedly not paying him for the thousands of dollars he said he raised for Harvey's charity.
Harvey's agent, Todd Frank, denies the allegations.
"It sounds fake," Frank told TMZ of the claims from ex-employee Vincent Dimmock.
Dimmock, who is suing for charity fraud, alleges that Harvey hired him back in April to help raise $20 million for the Steve and Marjorie Foundation as well as other ventures, according to TMZ. In return for his work, Dimmock said he was promised 12.5 percent of everything he brought in.
In the suit, a copy of which was obtained by TMZ, Dimmock said that he held up his end of the bargain and delivered $1 million through his high-profile connections, but Harvey allegedly refused to pay the employee commission. Not only did the TV mogul allegedly refuse to pay him directly after completing the job, Dimmock said Harvey appeared to have no intentions of paying him at all.
Also while working with Harvey, Dimmock claims to have discovered how Harvey felt about some of his fellow entertainer pals in the industry. During an investor meeting with Harvey in May, the TV star allegedly blamed TV queen Oprah Winfrey and film producer and actor Tyler Perry for giving him bad financial advice. He also allegedly blamed Barack Obama for Harvey's "disastrous meeting with Donald Trump."
In addition to the company's financial troubles, Dimmock said that Harvey believed bad PR moves were also to blame for the company's withering state.
But while Dimmock may have his opinions of Harvey, Frank has a much different opinion of his longtime client.
"Steve is the most loyal guy in the world," Frank said. "I've never been stiffed on a commission from Steve Harvey in 21 years."