Exclusive Tinseltown Tidbits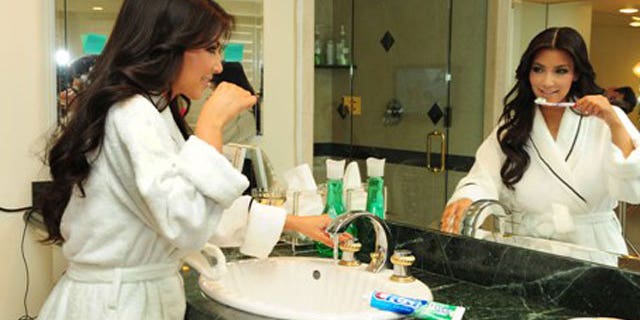 NEWYou can now listen to Fox News articles!
LOS ANGELES – Kim Kardashian hit the headlines last year when she underwent the "Velashape Cellulite Reducer" (she's even listed on the company's Web site as a "featured user") but it seems the hoopla surrounding it all was just hype for an episode of "Keeping Up With the Kardashians".
"I tried Velashape one time maybe two years ago (actually Kimmy, it was just last year), and it didn't really work for me. So I wanted to figure out whatever would work, so I do my fitness DVD's, and I have a product called Quick Trim which is like an all natural diet supplement. So, I always say there's no one thing, you need to do them all together," Kardashian told Tarts at a recent Hollywood party. (Good excuse to plug your own products!)
And in terms of giving corporate shoutouts, Miss Kardashian certainly isn't shy. Just in last few weeks we've seen her out promoting everything from cupcakes to clothes to lip plumpers and Pop Tarts even got sent some snaps of the reality starlet "posing" at home in her bathrobe for Crest Plus Scope Outlast. Phew.
On the note of stars attaching their names to material objects, Pop Tarts has exclusively learned that music mogul Jermaine Dupri has teamed up with renowned jewelry designer Pascal Mouawad to present a brand new watch line entitled NU POP MOVEMENT. The line, characterized by its eye-catching, oversized case, incorporates vivid colors and analog and digital movement, with a funky, fashionable twist. But what's even more interesting is that we're told Jermaine's girlfriend Janet Jackson will be on-hand to celebrate at the launch party to be held in Los Angeles next week after calling it quits in July.
"They're back together," an inside source close to the couple confirmed to Tarts. "And they're very happy together."