Eva Mendes: Angelina Jolie Makes Me Want to Be a More Giving Person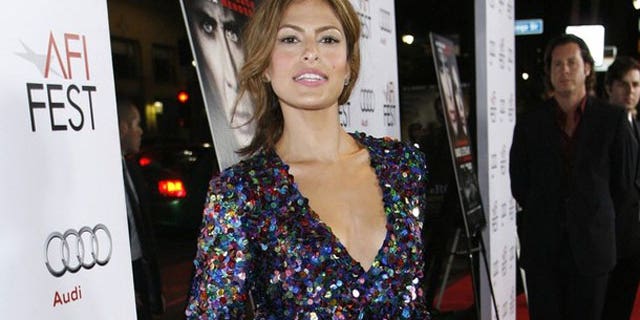 Some of Hollywood's biggest names stepped out to celebrate women in entertainment who have made significant contributions to philanthropic and charitable causes at Variety's Power of Women luncheon in Beverly Hills on Thursday. From Anne Hathaway to Katie Holmes to Eva Mendes, it was a star-studded event.
And while one of Hollywood's most high-profile humanitarians, Angelina Jolie, was nowhere to be seen – Eva Mendes credited her as a source of inspiration and wanting to make her be a better person.
"I have to say that Angelina Jolie did something really interesting when she became 'Angelina Jolie.' She took all that light and attention she was getting and she shined that light on important causes," Mendes, who was honored for her work with the Art of Elysium Foundation which brings different forms of creative arts into hospitals to improve the quality of life for children with serious diseases and illnesses, told Pop Tarts. "I think that's pretty incredible and she was the one that made it cool to do all that."
However fellow honoree, Jennifer Garner, who was acknowledged for the many hours she has devoted to Save the Children programs in the United States, which focus on supporting youth across the country that do not have access to educational resources and literacy programs, is motivated to give to those less fortunate by her husband, Ben Affleck.
"Los Angeles is such a philanthropic town; it is inspiring just to live here. Conversations are often about different people's causes and what got them involved so that's inspiring to be around," Garner said. "My husband's work in the east of Congo is certainly something I point to, I have seen the effort he has put into educating himself and finding a way that he can be most helpful to the people of Eastern Congo. His work certainly inspires me."
Speaking of L.A being a touchstone of inspiration, actress Maria Bello agreed that the Tinseltown community often gets an undeserving bad rap.
"There are just so many generous people in Hollywood, there is this old idea of Hollywood being selfish but is just not like that," the "Coyote Ugly" starlet said. "But for me, Sherry Lansing is my idol."
And while many in the entertainment arena are certainly well-known for their generosity and large contributions to worldwide disasters and tragedies such as Haiti's earthquake relief, the genocide in Darfur, and famines in Africa, it is no secret that many make their donations publicly known and reap the positive PR. Nonetheless, Amy Adams is inspired by someone who digs deep into his pocket to benefit an array of charities and causes, but doesn't do it with a press release.
"Steven Spielberg, he's the greatest in giving back and doing it in such an understated way – he doesn't draw attention to himself," Adams told us.
As for Kate Holmes, who was spotlighted for her time spent with "So You Think You Can Dance" and "American Idol" Executive Producer, Nigel Lythgoe, raising money with The Dizzy Feet Foundation to support, improve, and increase access to dance education across the country, is enlightened just watching her and husband Tom Cruise's four-year-old daughter, Suri, taking ballet class.
"She just loves it," Holmes gushed.