Ethan Hawke says 'Logan' isn't a 'great movie': 'It's a great superhero movie"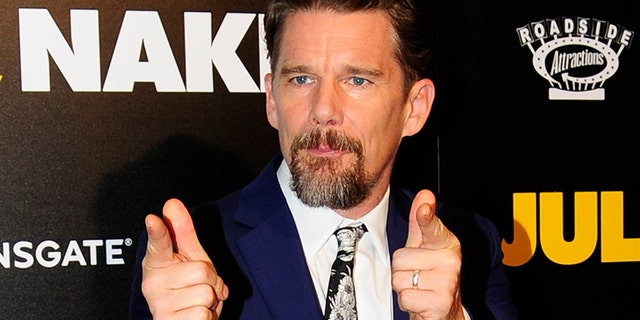 Ethan Hawke is offering his own take on the superhero movie "Logan."
Hawke, 47, spoke about the 2017 comic book flick after discussing the array of movie options out there.
"I'm always astonished, I'm sure you are too, you can go on Apple TV now and see that Joaquin Phoenix and Gwyneth Paltrow made a movie together that I never heard of. What?" he told The Film Edge. "And like, Matt Damon's in a Clint Eastwood movie I never heard of?"
"So many things get lost in the cracks and if those big names are getting lost, where are the 'Gattacas' of right now?" he asked, referencing the 1997 sci-fi flick in which he starred.
ETHAN HAWKE SAYS IT'S 'HARD' TO 'SELL A MOVIE WITHOUT A GUN'
Movie festivals, Hawke later argued, also play a critical role.
The actor said "guys at film festivals are like curators of, like, what does the world need to be paying attention to. What should be seen? If we didn't have these festivals, big business would crush all these smaller movies."
Hawke, who spoke while at a film festival in Switzerland, soon unleashed his thoughts about the movie starring Hugh Jackman.
KRISTEN STEWART SAYS UPCOMING 'CHARLIE'S ANGELS' REBOOT IS 'SO GROUNDED'
"Now we have the problem that they tell us 'Logan' is a great movie. Well, it's a great superhero movie," he said. "It still involves people in tights with metal coming out of their hands."
Hawke brushed off the movie being compared to the work of notable directors.
"It's not [Robert] Bresson. It's not [Ingmar] Bergman," he continued. "But they talk about it like it is."
The actor admitted to checking out the movie, in which Jackman played the X-Men character one last time.
"I went to see Logan cause everyone was like, 'This is a great movie' and I was like, 'Really? No, this is a fine superhero movie,'" he shared. "There's a difference but big business doesn't think there's a difference. Big business wants you to think that this is a great film because they wanna make money off of it."