Dylan Farrow recounts alleged 1992 Woody Allen sexual assault: 'He's been lying for so long'
Dylan Farrow said she feels "outrage" after "years of being ignored" and "tossed aside" for alleging her father Woody Allen sexually assaulted her when she was 7 years old.
The 32-year-old adopted daughter of Mia Farrow and Allen recounted the alleged sexual assault in an emotional interview with Gayle King on "CBS This Morning" on Thursday.
"I was taken to a small attic crawl space in my mother's country house in Connecticut by my father. He instructed me to lay down on my stomach and play with my brother's toy train that was set up," Farrow recalled. "And he sat behind me in the doorway, and as I played with the toy train, I was sexually assaulted… As a 7-year-old I would say, I would have said he touched my private parts.
"As a 32-year-old, he touched my labia and my vulva with his finger," she told King.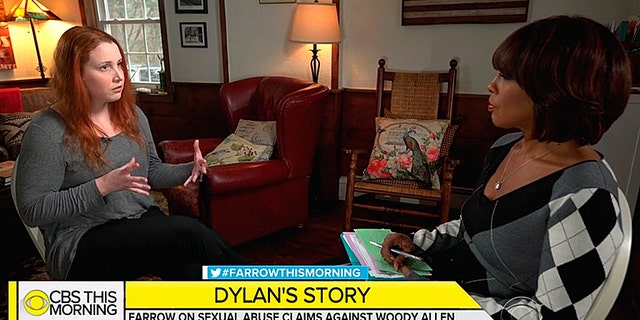 King then played a video of Allen's interview with "60 Minutes," during which the director denied the allegations and suggested his ex Mia Farrow coached Dylan in an effort to destroy him during their "very bitter acrimonious custody fight."
ALEC BALDWIN CALLS WOODY ALLEN BACKLASH 'UNFAIR,' SAYS IT WAS A 'PRIVILEGE' TO WORK WITH DIRECTOR
After watching the clip, Dylan Farrow broke down in tears saying she "thought I could handle" watching Allen.
"He's lying and he's been lying for so long. And it is difficult for me to see him and to hear his voice. I'm sorry," Farrow, who is a mother, said through tears.
While Allen was never charged with a crime, a prosecutor in Connecticut said he had "probable cause" to prosecute Allen in 1993 but declined to press charges, reportedly to spare Dylan Farrow the trauma of a trial.
Dylan told King on Thursday she wished the case had gone to trial.
"I do wish that they had [gone to trial], even if I'm just speaking in retrospect. I was already traumatized. … Here's the thing. I mean, outside of a court of law, we do know what happened in the attic on that day. I just told you," she said.
Former Connecticut prosecutor Frank Maco told CBS there was "no manipulation by Mia Farrow." He said the state police investigation showed that Dylan Farrow was not being controlled or manipulated.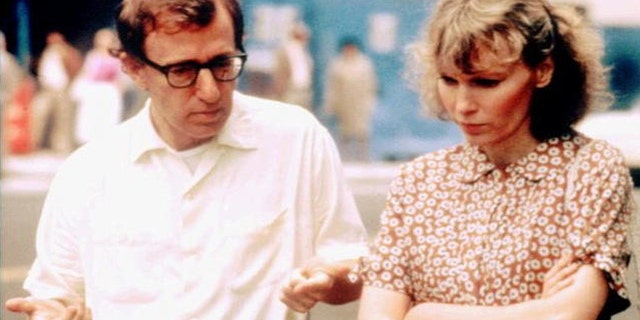 DYLAN FARROW SHOCKED THAT WOODY ALLEN'S CAREER HAS NOT BEEN IMPACTED BY #METOO MOVEMENT
Allen issued a statement to Fox News denying the claims.
"When this claim was first made more than 25 years ago, it was thoroughly investigated by both the Child Sexual Abuse Clinic of the Yale-New Haven Hospital and New York State Child Welfare. They both did so for many months and independently concluded that no molestation had ever taken place. Instead, they found it likely a vulnerable child had been coached to tell the story by her angry mother during a contentious breakup.
"Dylan's older brother Moses has said that he witnessed their mother doing exactly that – relentlessly coaching Dylan, trying to drum into her that her father was a dangerous sexual predator. It seems to have worked – and, sadly, I'm sure Dylan truly believes what she says.
"But even though the Farrow family is cynically using the opportunity afforded by the Time's Up movement to repeat this discredited allegation, that doesn't make it any more true today than it was in the past. I never molested my daughter – as all investigations concluded a quarter of a century ago."
A growing number of actors are distancing themselves from Woody Allen, heightening questions about the future of the prolific 82-year-old filmmaker in a Hollywood newly sensitive to allegations of sexual misconduct.
GRETA GERWIG REGRETS WORKING WITH WOODY ALLEN
Timothee Chalamet said he'll donate his salary for an upcoming Woody Allen film to charities fighting sexual harassment and abuse. The breakout star of "Call Me By Your Name" announced Tuesday on Instagram that he didn't want to profit from his work on Allen's "A Rainy Day in New York," which wrapped shooting in the fall.
Chalamet is just the latest to express regret or guilt about being professionally associated with the director. In recent weeks, Rebecca Hall, Mira Sorvino, Ellen Page, David Krumholtz and Griffith Newman have distanced themselves from Allen or vowed not to work with him again.
The Associated Press contributed to this report.