'DWTS' Gets Death Threats Targeting Bristol Palin, Mark Ballas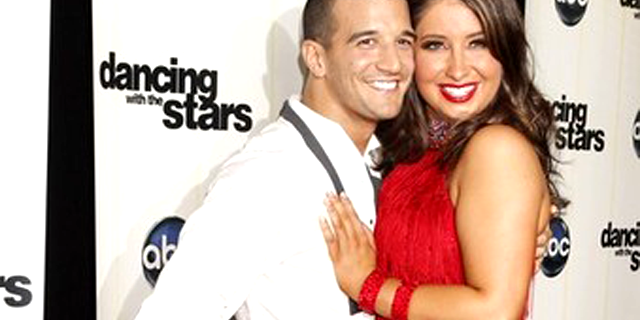 TV dance partners Bristol Palin and Mark Ballas have received death threats, causing "Dancing with the Stars" to heighten security.
The threats started last week after Bristol and Mark made the finals, sources told TMZ.
'DWTS' execs told Ballas to stop tweeting because his tweets were angering people. Ballas complied, TMZ reports.
Sources connected with the show told TMZ that extra security will be on hand Monday night for the show.
"Security is on absolute lockdown, Bristol is surrounded by security guards everywhere she goes," a source tells FOX411.
"She also showed up to an AMA pre-party with two guards, but was not allowed to speak to press. It's quite scary."
If Palin and Ballas win and head to New York, they may not do their interview outside in Times Square, but rather in the studio, where it's more secure.
"Everyone is genuinely worried," a source told TMZ. "This is a dance competition, and it's just gotten crazy."
A threatening letter with white powder was delivered to the "Dancing With the Stars" production office Friday, but tests indicated the substance was not hazardous, authorities said.
In a statement, ABC confirmed the envelope was received at the show's production office and the substance was determined to be talcum powder.
Hazardous materials officials with the city of Los Angeles, the Los Angeles Fire Department, Los Angeles Police Department and the FBI responded to CBS Studios where the hit ABC show is staged, authorities said.
An initial field screening was negative for hazardous substances, but the letter will be transported to a regional lab for further testing, FBI spokeswoman Laura Eimiller said.
The FBI and LAPD are conducting a joint investigation, Eimiller said.
The incident occurred just days before the final showdown for the mirrorball trophy.
Jennifer Grey, Kyle Massey and Bristol Palin will compete for the prize.
The show has made headlines in recent days because some say political supporters of Sarah Palin may be manipulating the voting system in favor of her daughter.
Others say Bristol Palin is the most improved dancer and a fan favorite because of her underdog status.
Both of the show's hosts have blasted the claims of possible vote rigging.
FOX411's Hollie McKay and The Associated Press contributed to this report.