'DWTS': Donald Trump's ex-wife Marla Maples 'can't believe' her elimination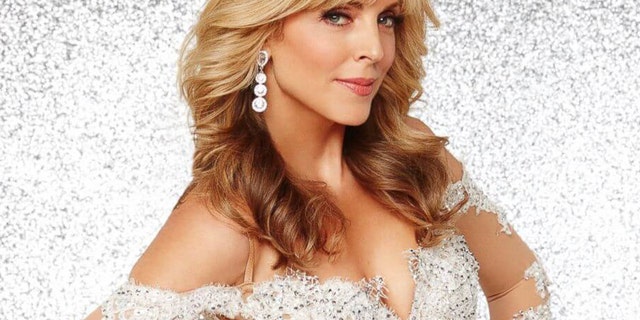 NEWYou can now listen to Fox News articles!
LOS ANGELES – Donald Trump's ex-wife Marla Maples, who hoped to win the "Dancing with the Stars" mirror ball trophy as her ex ran for a much bigger prize, was eliminated from the show on Monday night.
After receiving just 28 out of 40 points for her "Little Mermaid"-themed dance on the show's "Disney Night," Maples got her walking papers with partner Tony Dovolani.
And backstage, the two told reporters they were stunned.
A glum Dovolani said, "I'm still kind of in shock. It feels like a nightmare that I want to wake up from."
The blonde beauty, who was married to billionaire businessman turned Presidential candidate Trump from 1993-1999, and is mother to their daughter Tiffany, 22, sighed, "I just can't believe it either. We just built so much love and support from our fans and we would have liked to continue on."
Tiffany, who has been busy in college and interviewing for her first job, was able to watch Maples perform as a Monday audience member.
Viewers saw Tiffany mouth "I love you" after her dance and backstage, Maples said, "She just supports her mommy. She's in shock. She's really sad. We're sad but we've got to trust there's something bigger and better coming."
On a night in which most of the competitors scored in the 30s (with guest judge Zendaya sitting in to make the possible score 40), Maples was lagging. Although she looked stunning as Ariel (and cameras showed she and Tiffany had dressed up as the famed Disney character years earlier), judge Bruno Tonioli said she didn't keep enough body contact with Dovolani.
Although the judges praised Maples' elegance, only football player Doug Flutie and "Full House" star Jodie Sweetin scored lower. But Flutie was called "safe" right after his dance in a surprise announcement. Maples and Sweetin wound up the bottom two, with the former Mrs. Trump getting the trip home.
Emotional Maples, 52, told FOX411 of the judging, "It was surprising. We worked so hard. Of course we would have wanted to get better scores."
With Dovolani by her side, Maples admitted, "We're very sad. We were looking forward to having a lot more fun dances together and entertaining everyone and making them smile. That was what we feel like we were here for."
Reflecting on her "DWTS" experience, she said, "I feel so happy that I had Tony there to just keep me on board, keep us focused, to be able to be at this point in my life and to be able to dance like this…and have a new way of starting and creating life. It's been fantastic."
TV footage showed Maples crying last week after her energetic jive and she explained on camera that she had emotions that were trapped in her body because of a rough few years. Maples said she'd lost her best friend, her mother, two of her spiritual mentors, and two pet dogs.
Backstage, however, Maples said "DWTS" was nothing but a joy with Dovolani: "Never was there a moment that I thought I couldn't do this and it was always like we've got to work hard and we've got to get better, let's just keep pushing. We knew it was going to be a tough competition and we felt like we've been growing every week and really felt great about tonight and [for] last week's dance, they gave us the happy dance even though I've had the hardest few years of my life that could have touched every heart string. We agreed, okay, we're going to make everybody happy. Maybe we didn't touch the heart strings but hopefully we made people smile.
"Last week, the tears were…not sad tears they were like, we did it and it was like, I needed to release all that I did to work with him and give everything to make it through that jive which was a tough dance but we did it we had fun and the kids loved it and that's what counts."
Maples, who has appeared on "The View," told reporters, "I don't want to stop performing. I want to keep performing so I'll be looking for projects that really give me a chance to do it and maybe Tony might produce something fantastic."