Geraldo Rivera on his tough 'DWTS' debut: 'I was awful'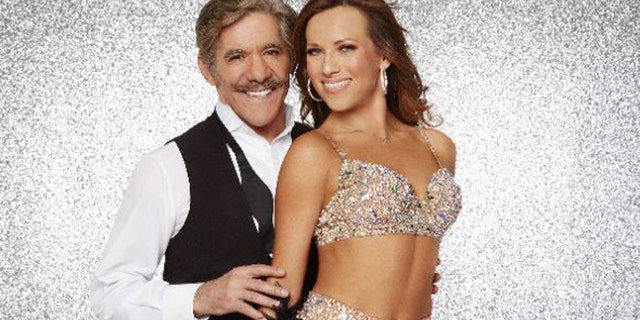 LOS ANGELES – Fox News' irrepressible Geraldo Rivera had a rocky start on Monday night's "Dancing with the Stars."
And as usual, the straight-shooting news hound wasn't afraid to tell it like it is, confiding to FOX411 backstage after the show, "I was awful -- but I had a good time."
Rivera, at 72 the oldest competitor this season, got judged harshly for his awkward cha cha with partner Edyta Sliwinska during the "DWTS" premiere and received a score of just 13 out of 30, the lowest of the night. [However, other celebrities have done worse. Master P still holds the "DWTS" low scoring record for receiving an 8 during season two, while several others have scored in the 10-12 range]
The humorous routine started with the journalist opening up a vault in a sendup of his famous "Al Capone's Vault" TV special. Who stepped out of the vault? Sexy Sliwinska!
Then the two walked down the stairs and did some cha cha moves and Rivera made hand motions around Edyta's va-va-voom body. During a solo portion of the dance, Rivera tried to strut his stuff with dancers in hard hats behind him. He ended the dance with a flourish, throwing his handkerchief out of his pocket.
Judge Bruno Tonioli laughed to Rivera that he had a "cunning strategy. You went minimalistic, 'let them wait for it. I am NOT dancing.' "
Carrie Ann Inaba believed that Rivera "got a little distracted" by Edyta and said he needed to loosen up his joints, while returning judge Len Goodman was more kind, noting that "dancing is a work in progress."
After the show, Rivera told FOX411 although his performance was awful, "Edyta was terrific, spinning and dipping and dancing away so it was an honor to be with her.
"Somehow, I don't know, I got out there and -- first of all, the door [to the vault] almost hit me on the way down [the stairs]," he laughed. "I was really too close."
Rivera joked that if he had been knocked cold by the door, "I would have gotten a higher score."
The journalist said he is not only the oldest on "DWTS" this season, but he has a previous injury that makes dancing difficult: "I have one dead foot. I had back surgery that killed my foot. I don't have any feeling in my right foot.
"It should be like golf. They should have handicaps," he said.
But he shrugged, "You get a little Ben Gay, a little rest, maybe a chiropractor or two, a massage, a few drinks, I'll be fine."
Rivera said "DWTS" feels a lot different than his previous foray into reality television on Donald Trump's "Celebrity Apprentice."
"The business thing, negotiating and getting TV packages built in 'The Apprentice' is much closer to what I do than dancing, which I don't do, so in a sense it's easier but the people on this show, it's so much friendlier, so much more supportive, everybody's kind of pulling in the same direction and everybody's cheering everybody else on. It's a much more pleasant environment."
Rivera also had support from wife Erica Levy, who cheered him on from the audience. "We love being together. I have really a storybook marriage."
Rivera also enjoyed getting reacquainted with a friend from the past, Trump's former wife Marla Maples, who is also competing on this season's "DWTS."
"I've known Marla from when she was married to Donald. Her daughter Tiffany [Trump] and my daughter Isabella hang out together from time to time. It was great seeing her again and we've had a lot of deep discussions in the last week or so about what we've been up to and what's going on."
Meanwhile, he said Fox News coworkers Megyn Kelly and Kimberly Guilfoyle have tweeted their support. "I think I may get a couple of votes from my fans on Fox News."