'DWTS': Donald Trump's ex Marla Maples starts her own campaign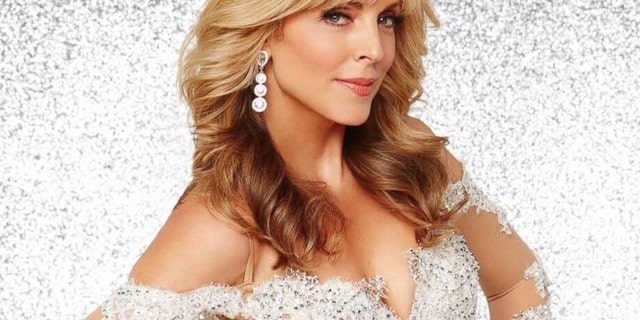 LOS ANGELES – Presidential candidate Donald Trump's ex-wife Marla Maples began her own campaign -- for the "Dancing with the Stars" mirror ball trophy -- on Monday night's season 22 premiere.
And Maples made a strong case by performing an elegant quickstep to the song "Diamonds Are A Girl's Best Friend" with partner Tony Dovolani.
Maples, 52, scored 21 out of 30 for the dance that ended with her doing a cartwheel.
Judges gushed, with Carrie Ann Inaba hailing her "incredible grace" and Bruno Tonioli telling her to "forget about the Donald" because ballroom is her "trump card."
After the show, the Georgia peach, still wearing her long gown, told FOX411: "I felt a little more glamorous than the country girl that I am, I gotta say. It felt really good to be out here and have the support of this amazing crowd and to be with this man who's teaching me how to ballroom [dance], something I've always been afraid of."
Dovolani added, "She looked like a diamond!"
Trump, who was married to Maples from 1993-99, recently told People magazine in a statement that he was pleased about her doing "DWTS."
Dovolani said, "I was so happy when Donald said that he wishes Marla a lot of luck. The fact that we have his support is wonderful, but really, we are on our own campaign. We are campaigning for the mirror ball trophy and that's all we're going to try and work on every single week."
Maples promised, "We're going to make you smile. We're going to make you feel good! Anything designed to make people happy."
Maples said Tiffany, her 22-year-old daughter with Trump, couldn't watch her mom at the first live show of DWTS' new season because she was in math class at the University of Pennsylvania. But she will ask her professor for a night off to attend another taping soon, Maples said.
Tiffany is also studying for the LSAT law school exam. "She's graduating [from college] this year and we're going to see [what she'll do next]," Maples smiled. "She does like having a great education. She may get a law degree and use it in whatever [else] she does."
"The View" guest co-host Maples said she has kept in shape by recently living in New York: "I walk about five miles a day all over the city."
She also follows a vegan diet.
While her ex-husband roils the political world, Maples said she's never been happier at 52, even though she's sad her mother Ann died in 2014.
"I feel like it's my second chance at life. My mother, my best friend, passed away and now's my chance to come back and just live fully and have joy. [DWTS] was her favorite show…in all honesty, Tony has her channeling through me a bit because she was a great dancer, so I'm doing this for her. She could knock it off in the ballroom. I think that's why I was sort of sitting back and watching when I was younger," Maples recalled.
Maples, who is athletic and played basketball when she was younger, said, "I was a little nervous about doing this show, but it's time. I'm over 50 now and my daughter is having her own life so it was time to overcome that fear."