Dwayne 'The Rock' Johnson's political activism, from March for Our Lives to party conventions
Could Dwayne "The Rock" Johnson be gearing up for a political run? It's possible.
As the internet continues to buzz about the possibility, the WWE and movie star told Fox News at the premiere of his film "Rampage" in April that he "wouldn't rule out" a potential political run in the future.
"I care about our country... and our American people and our citizens, and the values of our country," Johnson said. "So, of course, I would consider it."
He recently told Rolling Stone that he has been having "under the radar" meetings with political strategists of multiple political persuasions.
It's not unusual for celebrities to run for office, especially in recent years; President Trump is a former reality television star, and "Sex and the City" actress Cynthia Nixon has launched a serious bid for New York governor.
Read on for a look at Johnson's political past and the issues he's passionate about.
He's attended GOP, Democrat conventions
In 2000, Johnson attended both the Republican and Democratic Party conventions with the WWF's "Smackdown Your Vote!" campaign to increase younger voter turnout.
That same year, he also spoke at the GOP convention.
Johnson didn't vote in 2016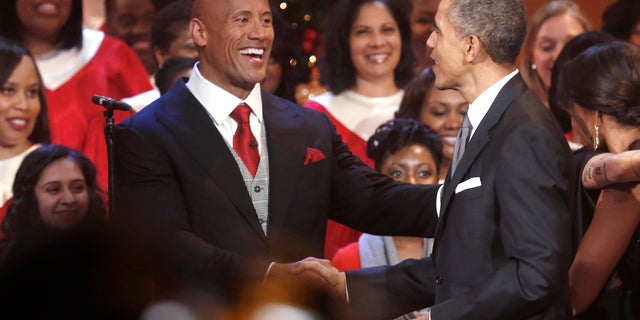 While Johnson voted for former President Barack Obama in 2008 and 2012, he said he didn't cast a ballot in 2016.
"At the time, I just felt like it was either vote for the [candidate] I thought would make a better president than the other, even though I would rather have someone else, or not vote at all," he told Rolling Stone.
Johnson said he was filming in Hawaii during the election and "was like really calling on the gods" to give him an answer.
He's an independent      
Johnson has maintained that he has political friends on both sides of the aisle – such as Obama and former New Jersey Gov. Chris Christie, a Republican.
While he was a registered Republican, he's since become an independent, he told GQ magazine for a 2017 profile.
He supported the March for Our Lives protest
Johnson posted an Instagram photo in support of the student activists who demonstrated nationwide during the massive March for Our Lives protest of gun violence.
"I'll always stand for open dialogue and action - it's the only way to ensure bad history doesn't repeat itself," Johnson said. "When it comes to protecting our children, all bets are off and the responsibility lies with us adults and lawmakers to listen and do."
He added that he was "very proud of our youth leading this movement."
He supports athletes who protest the national anthem
Trump took on professional athletes – namely the NFL – after players began to kneel or otherwise protest during the playing of the national anthem.
Johnson told Rolling Stone that he "would have either knelt or raised my fist in solidarity" if he was a NFL player and criticized the president for not understanding the nature of the protests.
"I felt like our president's responses were being dictated by the noise, and not the actual problem," Johnson told the publication, adding that the demonstrations were "a cry for help."