Does Hollywood's Obsession With Posing Nude and Pregnant Exploit Kids Before They're Even Born?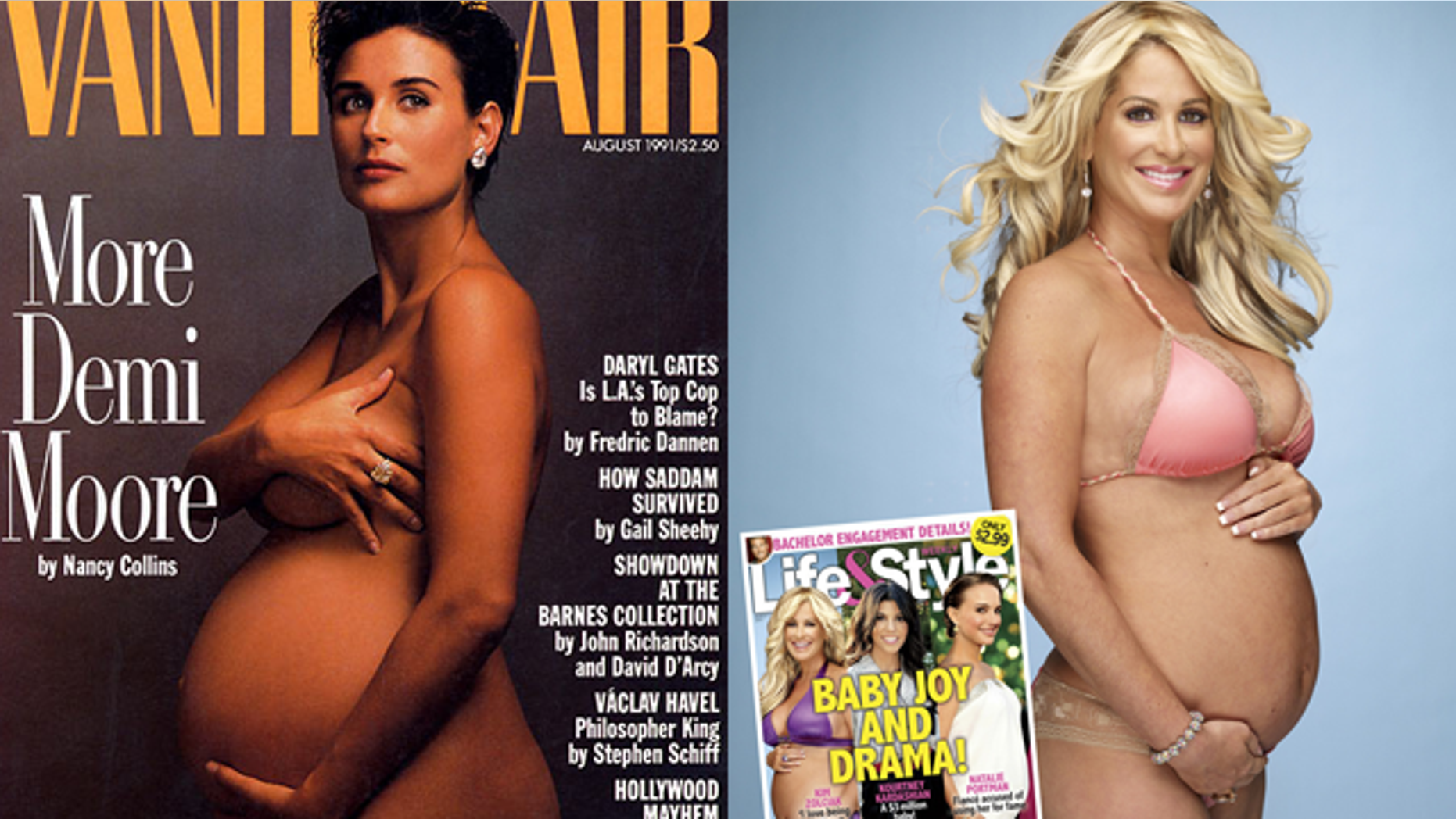 In August 1991, a seven-month pregnant Demi Moore sparked controversy when she posed naked for the cover of Vanity Fair.
Little did we know that the then 28-year-old was issuing in a "let's bare our bodies and bulging bellies" magazine movement that's now a Hollywood staple for celebrity moms-to-be.
Britney Spears, Christina Aguilera, Cindy Crawford, Claudia Schiffer, Monica Belluci, Milla Jovovich, Paz Vega, Eva Herzigova, Paula Patton, Myleene Kass and Miranda Kerr have since followed suit, stripping down to expose lots of skin and a heavily-pregnant pooch. Almost every high-profile women's magazine from Marie Claire, Harpers Bazaar and W to German Vogue and Glamour have featured the nude baby mamas.
But in 2011, you don't even need to be all that famous to get your baby-bump's day in the sun.
Reality stars and tabloid weeklies are co-opting the trend, the latest being "Real Housewives of Atlanta" star Kim Zolciak, who posed in lacy lingerie for this week's Life & Style magazine while six months pregnant.
So has the "flesh flashing pregnant pic" finally gone from shocker to cliché?
"Twenty years later and Hollywood is still trying to shock America with pregnant pictures to get free publicity," Dan Gainor, VP of Business & Culture at the Media Research Center, told FOX411's Pop Tarts." But what's truly shocking is how Hollywood has changed in that time. When Demi Moore was on Vanity Fair, she was married to Bruce Willis. Kim Zolciak is showing off what one Hollywood site called her 'massive baby bump' from her unmarried relationship with her boyfriend."
Gainor also feels the photos wrongfully capitalize on the child before he or she has even entered the world.
"If the [reality] show survives, the child will be exploited first as a baby and, with series success, all through its youth," Gainor said. "Was 'The Truman Show' fiction? I begin to wonder."
Celebrity therapist Lisa Haish doesn't feel such photographs exploit the child, but highlight stars' insatiable hunger for publicity.
"I do think it shows desperation for attention by the star that poses nude/semi-nude, while pregnant," Haish said. "It's a proven gimmick that works. I don't think it's wrong. It's a choice."
But Gainor says these ultra-sexy, professionally lit, heavily airbrushed snaps also pose a psychological danger to moms and future moms as they set unrealistic expectations regarding what it really looks like to be "expecting."
"The combination of Hollywood and the fashion industry sets bizarre and unrealistic goals for American women," he said. "The sooner women ignore these unrealistic expectations that are one part liposuction and one part airbrushing, the happier women and men will be."