Disney's 'Girl Meets World' celebrates police officer, viewers take notice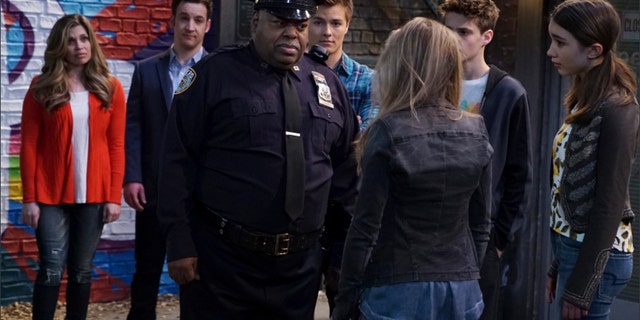 NEWYou can now listen to Fox News articles!
Did Disney weigh in on the headlines swirling around law enforcement on Friday's episode of "Girl Meets World"?
Bloggers and social media users sure think so.
In the episode, Danielle Fishel, who plays Topanga, repeatedly thanked a stern-but-friendly cop character and pointed out what a hard job police have.
The episode, "Girl Meets True Maya," featured a guest appearance by Reginald VelJohnson, of "Family Matters" fame, who played a local police officer trying to protect the local park. The officer took notice of Sabrina Carpenter's character, Maya, as she painted a mural in the park with the word "hope." Though it was an act of vandalism, he let her off with a warning.
Earlier in the episode, the same officer showed leniency with a child who accidentally stole candy from a store, not realizing he was supposed to pay.
One fan blog noted, "To us, whether intentional or unintentional, there was also a really important message about the police in this episode, as well: They're not all bad... You can argue against the realism of this said cop character, but reading between the lines, it felt as though the show was trying to enforce that there are still good police officers out there, ones who exercise empathy and know that certain punishments do not always fit certain crimes."
Some viewers took note of the epsiode's message as well.
Topanga said the police do a tough job and said thank you for it in #GirlMeetsTrueMaya, I'm surprised the fandom haven't called for her head

— Jack Star (@JackStar016) July 15, 2016
Omg im watching girl meets world and the black cop was nice and he was like "see sometimes the system does work" 💀

— Gabriella Rae Cantú (@gabbycan2) July 16, 2016
Disney did not immediately respond to FOX411's inquiries into when the episode was filmed. The show's stars, including outspoken teen Rowan Blanchard, have not made mention of the police presence in the show on social media. Blanchard did not return FOX411's request for comment.