Did Fantasia Barrino Crack Under the Sex Scandal Pressure?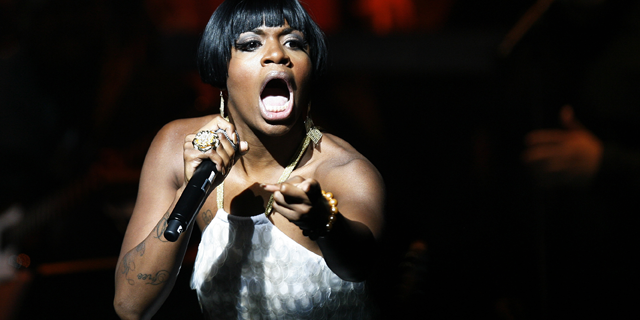 NEWYou can now listen to Fox News articles!
Season Three's "American Idol" winner Fantasia Barrino was hospitalized in North Carolina on Monday following a drug overdose just hours after details of a lawsuit filed against her for destroying a marriage were made public.
The 26-year-old's manager said the songstress overdosed on a combination of "aspirin and sleep aid," and that her condition was not life threatening.
The police report, obtained by TMZ, cited a "suicide attempt" as the reason for the 911 call.
A woman named Paula Cook said that her husband Antwuan Cook and Barrino began a "covert adulterous affair" in August last year, after meeting at a cell phone store where he worked.
So was Barrino's OD a direct result of the lawsuit being made public? Her rep seemed to think so, saying Barrino was "totally overwhelmed by the lawsuit and the media attention."
Addiction and mental health experts told Pop Tarts its not surprising.
"Due to the allegations made you've got the extra cameras, attention, the disappointment, feeling foolish, deceived and guilty. All of it takes its toll so the stress and OD in a situation like this is no big surprise," Los Angeles chemical addiction specialist Marty Brenner, who does not treat Barrino, told Pop Tarts. "But the part I don't understand is the 'aspirin and sleep aid.' That's very vague, and I believe her people are underplaying the medication that she took and perhaps the severity of the situation."
Not only has Barrino been accused of adultery in North Carolina, a state where this is still considered a very real crime, but the complaint filed by Cook also referenced sex tapes, stating that "Husband and Ms. Barrino have at times recorded their illicit sexual activity."
Brenner said that in such situations of extreme stress and public humiliation, people often succumb to either intense rage, or self-medication as a coping mechanism to numb the flood of emotion. But did the single mother really intend to end her life?
"It remains to be seen whether the amount of meds she ingested were enough to commit suicide, or just to 'check out' and avoid the enormous stress and embarrassment that she is facing," said Los Angeles psychologist Nancy B. Irwin, who also does not treat Barrino. "Fantasia may be 'grandstanding' to garner sympathy versus owning/apologizing for not walking her talk. It is frequently a stalling tactic."
A source who has known Barrino since she took home the coveted "American Idol" title told Pop Tarts that in the past, she always appeared to be one very capable of pushing through the many pressures that came her way.
"Fantasia always has lots of energy, she is very nice and had a supportive group around her," said our source.
However she is certainly not the first high profile figure to be laid low by a public sex scandal.
Tiger Woods was once an almost unbeatable golfing great – yet now his professional (not to even mention personal) life is in shambles ever since his string of mistresses spoke out in late 2009. Topping off a terrible year on the course, stripped of the majority of his multi-million dollar endorsements, Woods imploded at the WGC-Bridgestone Invitational in Ohio this weekend, finishing a career-worst 18 over par in a tournament he had previously won seven out of11 tries.
Sandra Bullock's soon-to-be ex-husband Jesse James, who was dumped after having had numerous mistresses go public, appears to have little left of his once prosperous career. James not only broke down on national television and claimed to have hit "rock bottom," but his businesses, including Cisco Burger in Long Beach and West Coast Choppers, have apparently been suffering and over recent months.
And let's not forget John Edwards, once a presidential candidate, who now spends his time trying to place restrictions on his testimony in a lawsuit surrounding a videotape that purportedly shows him engaged in extramarital sex with the then-pregnant Rielle Hunter, the mother of his lovechild.
On the other hand, there are couples such as Leann Rimes and Eddie Cibrian, as well as Brad Pitt and Angelina Jolie, who have been linked to messy, extramarital affairs, but have managed to keep it together in spite of the media firestorm.
"The best way to handle any bad situation is to be honest with yourself. People that have done things like this but managed to hold their head high with dignity and grace means they have accepted what they've done," Brenner said. "The ones that refuse to deal with the guilt are often the ones that will self-medicate to try and hide the shame and remorse that they are experiencing."