Demi Lovato Says She Would Pass On Rumored NYC Spin-Off Of 'Glee'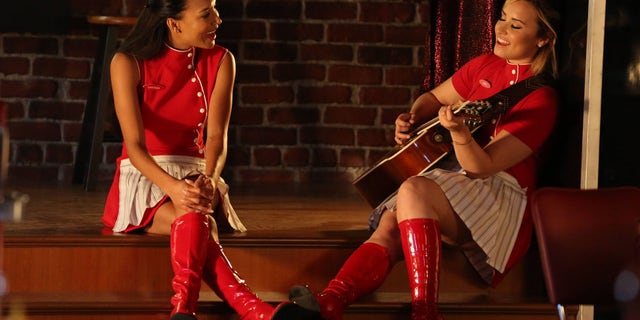 "Glee" fans and 'Lovatics' shouldn't get their hopes up of seeing Demi Lovato on a NYC spin-off of the hit musical TV show — if it even happens.
Rumors have been swirling lately that the show's producers may be moving the final season out of the halls of McKinley High – fictionally set on Lima, Ohio – to the streets of New York City, focusing on the lives of Lea Michele's Rachel, Chris Colfer's Kurt and Naya Rivera's Santana.
If these rumors turn into reality, Lovato told Zap2It.com, she would pass.
"No. It's fun, but not that fun – just kidding," joked the "Neon Lights" singer. "It is a good experience, but I think ultimately my main thing is singing. Maybe movies once in a while if the right role comes along, but it is still hard being in front of the camera when you have suffered from eating disorders. I still don't watch my episodes back. It is hard."
The 21-year-old, who has been open about seeking treatment for bulimia, self-injury and self-medicating in late 2010, recently said she thinks she's had an easier time growing up in the spotlight because she went to rehab. Lovato was comparing her experience to that of her fellow Disney Channel alum Miley Cyrus.
"I think that the world needs to get over the fact that she was 'Hannah Montana' when she was 16," Lovato told Katie Couric. "I guess my transition was a little easier because I went straight to rehab. I didn't twerk. I just went to rehab," she said with a laugh.
She said she believes Cyrus' talent is overshadowed by some of the things she has been doing, and believes Cyrus is free to do what she wants.
"It's her journey. She's having fun. She's being who she is," Lovato said. "I'll always love her. She's been one of my friends since I was 14. But everyone is on their different journeys right now and she's doing that and she's having fun … so power to her."
The "Skyscraper" singer added: "I've learned a lot and I've grown up. And we're all in the process of doing that. So, go a little easy on us America!"
Follow us on twitter.com/foxnewslatino
Like us at facebook.com/foxnewslatino