Demi Lovato Reveals In Detail Her Former Drug Addict Life: 'I Couldn't Go Without ... Cocaine'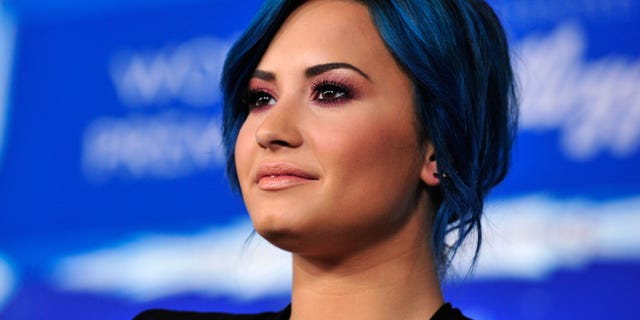 Demi Lovato revealed that fans would be shocked to hear about her drug and alcohol abuse stories – she was right.
In a very candid TV interview, the 21-year-old singer, who is promoting her book Staying Strong: 365 Days A Year, opened up about her darkest days.
"Something I've never talked about before, but with my drug use I could hide it to where I would sneak drugs. I couldn't go without 30 minutes to an hour without cocaine and I would bring it on airplanes," Lovato confessed in a new interview with Access Hollywood.
"I would smuggle it basically and just wait until everyone in first class would go to sleep and I would do it right there. I'd sneak to the bathroom and I'd do it."
The former Disney star, who now leads a sober life, famously withdrew from the Jonas Brothers Live in Concert tour in October 2010 to enter a treatment facility for "physical and emotional issues," but admits that she was still wary of accepting help from others.
"That's how difficult it got and that was even with somebody (with me), I had a sober companion, somebody who was watching me 24/7 and living with me," the singer continued. "I was able to hide it from them as well."
But it was not until later that Lovato hit rock bottom, she said.
"I was going to the airport and I had a Sprite bottle just filled with vodka and it was just 9 in the morning and I was throwing up in the car and this was just to get on a plane to go back to L.A. to the sober living house that I was staying at… I had all the help in the world, but I didn't want it," Lovato revealed in the interview from the set of the "X Factor."
She further revealed: "When I hit that moment I was like, it's no longer fun when you're doing it alone. I've really never talked about this stuff before… I don't know it I should be sharing this."
Lovato said it was during that moment that she finally came to terms with her issues and decided to get help. She said it was not longer about her being young and rebellious and "out having fun."
"It was, wow, I'm one of those people… I gotta get my s--t together," she explained.
The "Neon Lights" singer, who previously revealed she was diagnosed with bipolar disorder and used cutting as a coping mechanism, also shared some insight into her struggle with anorexia and bulimia, which she said began well before she was a teenager.
"It was always there, but then I just acted on it at around 8 or 9 years old," Lovato revealed. "I started overeating, compulsively overeating. I would bake cookies and then eat the whole pan. I went from doing that to being unhappy with my body ... It got really difficult (and) I would throw up and it would just be blood and it was something that I realized if I don't stop this, I am going to die."
Her mother Dianna, who also participated in the candid interview, said her daughter's struggles stemmed from her own issues with a "terrible eating disorder" and "severe depression," but after seeking help, mom and daugther are stronger than ever.
"I'm so… proud of her, it makes me so happy," Lovato said of her mother. I love her so much."
Lovated posted on Twitter on Tuesday:
Lovato's book chronicles her struggles with addition and depression, "all the while on a search for self-discovery and happiness." She is currently writing another book, a tell-all, which will most likely be released next year.
Follow us on twitter.com/foxnewslatino
Like us at facebook.com/foxnewslatino