Demi Lovato: "I Don't Think Anybody Can Save Your Life Except For Yourself'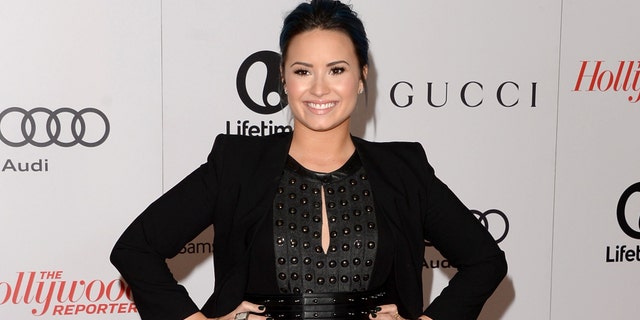 Just a day after calling drug addiction a "deadly, serious disease", tweeting about the death of actor Philip Seymour Hoffman, a special interview with singer Demi Lovato on E! News Monday night had her opening up even further about her struggles that sent her to rehab at 19.
Since her rehab stint in late 2010 and early 2011, Lovato has not been shy about sharing her experiences with drug abuse. Sitting down with E!'s Giuliana Rancic, the 21-year-old was even more candid.
"I don't think anybody can save your life except for yourself," she said. "That was a key element in realizing I had to change. I don't place any of the blame on anybody else except for myself, for not being so honest."
Lovato, who recently celebrated three years sober and will kick off her Neon Lights tour next week, admitted last year to using cocaine heavily, even going as far as to smuggle it onto planes.
"Something I've never talked about before, but with my drug use I could hide it to where I would sneak drugs. I couldn't go without 30 minutes to an hour without cocaine and I would bring it on airplanes," she confessed at the time. "I would smuggle it basically and just wait until everyone in first class would go to sleep and I would do it right there. I'd sneak to the bathroom and I'd do it."
When Lovato's addiction problems escalated to almost a point of no return, it was around the time she was dating fellow ex-Disney star Joe Jonas, who famously wrote an open letter in New York magazine stating that he was peer-pressured by Lovato and singer Miley Cyrus to smoke pot for the first time.
"The first time I smoked weed was with Demi and Miley," Jonas said. "I must have been 17 or 18. They kept saying, 'Try it! Try it!' so I gave it a shot, and it was all right. I don't even smoke weed that often anymore."
Lovato, who initially responded in a tweet right after the letter went public, spoke out about his accusations to Rancic.
"He had warned me a couple days before, and said, 'Hey, heads up, I did an interview and I talked about smoking pot with you and Miley," she said. "I was like, 'We smoked pot together?!' I don't even remember clearly ... but I'm pretty sure it happened."
Lovato said her ex was nervous when she called to discuss it after the story went public.
"I was like, 'Relax, we're good. Just don't be so stupid next time,'" she said. "[I said], 'I want to sit and talk to you in person, but I love you. It's all good. We're always going to be friends.'"
After her time in rehab, Lovato also admitted to suffering from bulimia. She told Rancic that her body issues began really young, attributing it in part to living with her mother, who suffered from an eating disorder.
"You grow up in those behaviors and those thoughts," said Lovato, adding that she was mercilessly teased by classmates to a point that forced her to leave school. "It escalated to a point when it was no longer gossiping and bickering… It just made it unbearable."
Follow us on twitter.com/foxnewslatino
Like us at facebook.com/foxnewslatino