'Deadliest Catch' recap: Captain Jake fights insubordination on the ship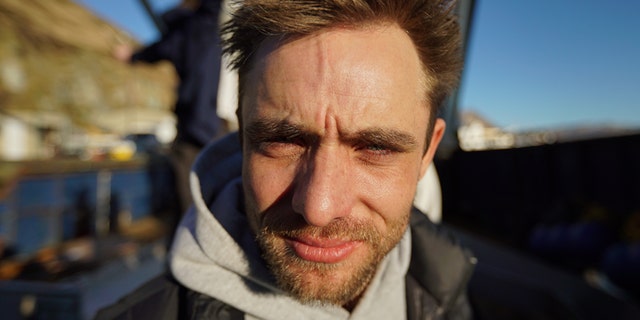 NEWYou can now listen to Fox News articles!
Skipper Jake Anderson had another problem with a crewman on his ship The Saga after sending deck boss Sean Dunlop to alcohol rehab.
On last week's "Deadliest Catch," viewers saw Anderson emotionally say goodbye to Dunlop at the airport as he was going away for treatment. Dunlop's drinking had gotten so out of control that Anderson urged him to get help.
But on Tuesday's episode of the Discovery Channel show, the consequences of losing Dunlop were clear as things got chaotic on Anderson's boat.
With a big storm brewing, the captain had poor visibility—and then had to deal with insubordination.
Crewman Dean Gribble decided to control the crane to move the sorting table on the deck. Anderson shouted at him from the wheelhouse after seeing the dangerous maneuver done against his orders.
Frustrated Gribble gave Anderson the finger.
"Did you flip me off?" Anderson roared. "Get off my deck, Dean, or you're fired."
With Anderson counting down to zero, Gripple finally moved off the deck.
"I'm going to be top dog," Anderson told the cameras.
The skipper confined Gribble to his quarters and said he was forcing his worker to be humble. Unfortunately, it hurt his crab fishing operation. Anderson got a decent haul but his rookie crew was having a hard time without Gribble.
"We need Dean down here," another crewman shouted.
Anderson admitted his men weren't keeping up while experienced fisherman Gribble remained in the dog house.
To make amends, Gribble brought Anderson a sandwich -- and conceded to his captain he had "f***ed up on the crane" and got "grumpy at the time," when he flipped off the boss.
Anderson decided to forgive Gribble, telling him, "We're good. I like you."
Cameras showed the Saga captain noting, "I really care about the guys that I hire and I don't give up on them."
Gribble went back to work.
Meanwhile, the other "Deadliest Catch" skippers also dealt with severe storm conditions that promised 40-50 MPH winds.
Wild Bill Wichrowski was experimenting with using crab callers in his pots to see if it would result in bigger yields.
A recording in the callers emitted sounds replicating a food source, which was supposed to attract crab.
Wichrowski hoped it could eliminate having to use as much bait, but the test went bad when the electronic sensors in the callers got flooded with water, wrecking them.
"We're high tech rednecks, weird times," Wichrowski shrugged on his Summer Bay ship.
Keith Colburn said he was fishing "in a snow globe" as a blizzard battered his boat.
The Time Bandit's retiring captain Johnathan Hillstrand returned again to the Russian line and was rewarded with more pots loaded with opilio crab.
The episode ended with Colburn's boat being hit by a massive wave. He sighed, "It's only going to get worse."