Dave Chappelle photobombs couple's engagement shoot in a hilarious way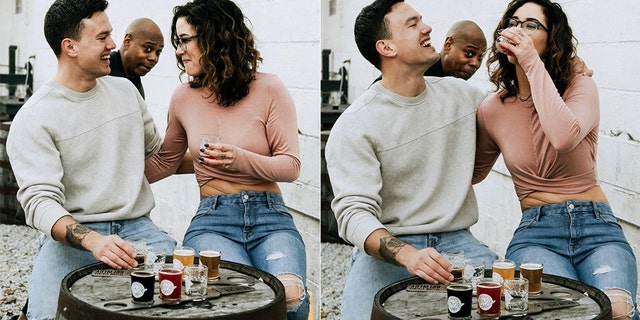 An Ohio couple got a funny surprise after comedian Dave Chappelle made their day by photobombing their engagement photo shoot.
Photographer Jaycee Brammer shared the photos of engaged couple Thomas Saunders and Emily Eldridge with the familiar comedian lurking in the background. The photos quickly went viral on Reddit and other social media sites. Brammer wrote in a social media post that Chappelle was "so nice and truly made our day."
DAVE CHAPPELLE DEFENDS KANYE WEST'S DONALD TRUMP MEETING: 'I SUPPORT HIM'
"I think it's safe to say Emily + Tommy have the coolest engagement photos EVER," Brammer wrote.
Brammer told Yahoo she was photographing the couple at the Yellow Springs Brewery in Ohio when her husband pointed out that Chappelle at the brewery.
Saunders asked the "Chappelle's Show" star to join them in a picture but he declined. The comedian chatted with the group for a few minutes.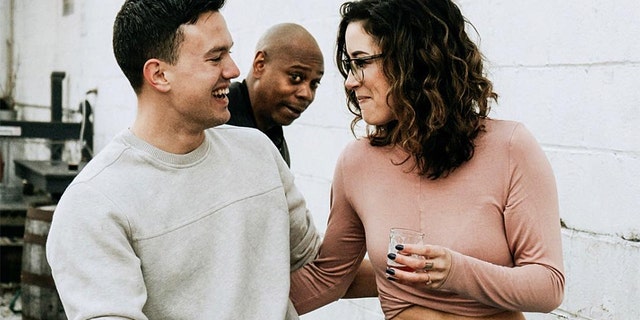 "We talked for a bit about 'Chappelle's Show' and where I've been stationed," Saunders told Yahoo. He joined the Air Force in 2010.
However, as the photo shoot went on, the comedian appeared to change his mind.
MAN WHO THREW BANANA PEEL AT DAVE CHAPPELLE IS NOW SUING THE COMEDIAN
"We went back to taking pictures, and not long after he came around and said, 'I'm gonna photobomb you guys.' Emily and I couldn't hold it together, and we were incredibly grateful for him making an exception for us," Saunders told Yahoo.
Brammer recalled Chappelle laughing and predicting the photos would go viral - which they did.
"He laughed after photobombing us and stepped back so we could finish," Brammer said. "After that we were all pretty much shocked and couldn't believe what just happened. We reviewed the photos, and I walked over to show Dave. He laughed and said, 'We're gonna go viral, man.'"