'Dancing With the Stars': D.L. Hugley gets eliminated; Jacoby Jones jumps high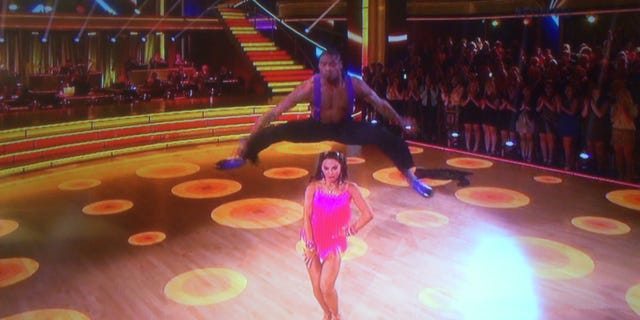 Another one bites the dust on "Dancing with The Stars." D.L. Hughley and Victor Ortiz were sadly in the bottom two, while Jacoby Jones jumped over Karina Smirnoff's head.
PHOTOS: Click here to see photos from the latest episodes of 'DWTS'
"Dancing With the Stars" has lost another celebrity. After Jacoby Jones won the encore dance and literally did a split jump over Karina Smirnoff's head on the April 16 show, D.L. Hughley and Victor Ortiz were announced as the bottom two, and one of them was sent home…
Jacoby Jones Jumps Over Karina Smirnoff's Head
Jacoby can jive. After one of the best performance's last night, Jacoby whipped off his shirt, did the splits, and jumped over Karina's head. His amazing jump then won him the encore dance, and he nailed it again.
Selena Gomez Performs 'Come & Get It'
Selena Gomez took the "DWTS" stage and gave the audience a hot performance of her new single "Come & Get It."
Selena hit the stage looking absolutely stunning in sexy purple crop top with a flowing skirt. She also sported a Bindi on her head while she gave a Bollywood-inspired performance.
She began the performance by laying on her back in the center of the floor and dancing. By the middle of the song, Selena was up on her feet doing some majorly sexy belly dancing, and the audience loved it.
D.L. Hughley Gets Eliminated
Sadly, D.L. got the fewest number of votes, so he and Cheryl Burke were sent home. I think the right person went.