'Dancing with the Stars: All-Stars Finale': Who Will Win?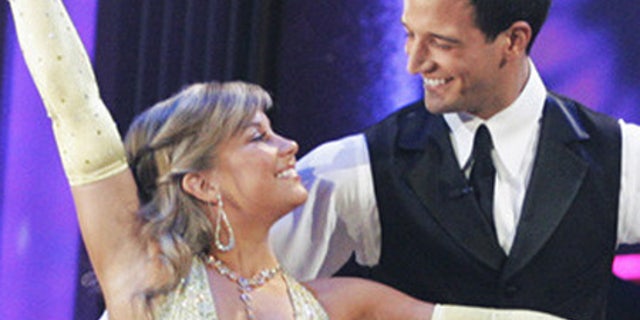 Shawn Johnson has been the favorite to win "Dancing with the Stars: All-Stars" since the cast was announced, but is she going to run away with her second Mirrorball trophy?

Johnson, Melissa Rycroft and Kelly Monaco will face off in the show's first all-female finale. Before a winner is announced, let's size them up.

Losties? Trekkies? Which TV show has the best fans? Vote now!

SHAWN JOHNSON
For Her: Technical precision and high-flying acrobatic skills. The Season 8 champ has not disappointed all season when it comes to the "wow" factor and is arguably the best dancer left. Outside of Week 1, when low scores were dished out to everyone, Johnson has not received lower than a 25.
Needs to work on: Performance factor. If it's not a perky, upbeat number, Johnson can come off as too mechanical and robotic at times. She's made strides since Season 8, as seen in her sassy cha-cha and sweet rumba, but she's got to let her guard down a little more. It's not a gymnastics competition!
Why she might win: She's got the skills, the eye-popping tricks and judges' pet Derek Hough as her partner. The three-time pro champ loves to break (push, bend — whatever you want to call it) the rules and he'll have free rein with the supersized freestyle to tap even more into Johnson's gymnastics prowess. Hough has also hinted that this will be his last season, so nothing like that to encourage their big fan base (individually and together) to send him out on top as the show's first four-time winner.
Watch out for: The freestyle. The make-it-or-break-it routine is Mr. Choreography's forte and if it meets fans' ultra-high expectations, this contest may be over.

PHOTOS: Everybody's posing nude! Check out Rihanna and other stars who've bared all

KELLY MONACO
For Her: Improvement arc and boundless chemistry with Val Chmerkovskiy. The inaugural champ caught a lot of flack for winning Season 1 because she wasn't the best dancer (remember the dance-off the show later subjected her to with John O'Hurley?), but she's quieted haters on the very first night with her dazzling cha-cha. She's continued to showcase her ability with dances she has never done before, since Season 1 was only six weeks long. It's hard to think of a former winner as an underdog, but Monaco is one.
Needs to work on: Refinement. Compared to her fellow finalists, Monaco is the least polished, though not by much, and relies on jerky movements. She's only one of the three who's yet to receive a 10, and her season average is more than a full point below Johnson's and Rycroft's.
Why she might win: Validation. There's nothing like proving people wrong and Monaco is three dances away from perhaps silencing her critics for good — and she's got the soap fan base behind her. She and Chmerkovskiy have overplayed their showmance at times, but there are many fans who are still eating that arc up.
Watch out for: Skin. How naked will they — or more specifically, Chermkovskiy — go? He was already down to a teeny, tiny Speedo last week.

MELISSA RYCROFT
For Her: Effortless ability, a drama-free, fun partnership with Tony Dovolani and never having won before. The Season 8 third-place finisher was pegged for an early exit by many, given who she was up against, but she's stealthily defied the odds and beat out two former champs in the semifinals to get another crack at the Mirrorball trophy.
Needs to work on: Her connection with Dovolani. Footwork-wise, Rycroft can rival Johnson, but she tends to dance within herself, and her hold with Dovolani suffers for it. Get tighter and dance bigger.
Why she might win: She's never won before. If fans want to spread the wealth, they'll go for these guys. The toothy twosome's carefree relationship is delightful, and frankly, Dovolani deserves to win one after enduring Kate Gosselin and continuously being saddled with non-contenders. They've also got momentum on their side after winning the swing marathon and getting perfect 30s the past two weeks. Though Johnson has the highest cumulative score and season average, Rycroft has the most 30s.
Watch out for: How Dovolani's back holds up. He pulled his back just last week and was stiff in the semifinals. If he does recover fully, can he put together a winning routine for what has been his Achilles' heel: the freestyle?

Who do you think will win? Tell us on the FOX411 Facebook page.
More on "Dancing with the Stars" on TVGuide.com