Dallas Cowboys wide receiver Dez Bryant booked for assaulting his mother, report says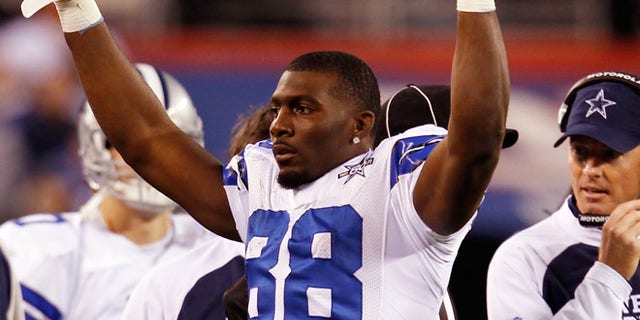 Dallas Cowboys wide receiver Dez Bryant allegedly hit his mother in the face with his baseball cap and grabbed her by the shirt so hard that he ripped her bra, according to arrest documents obtained by TMZ.
The documents say police were dispatched to Bryant's mother's home in DeSoto, Texas on July 14 at 1:47 PM after receiving a 911 call reporting an assault: family violence.
On the 911 call, Angela says: "My son has assaulted me. He's here now. he won't go home. I keep telling him to go, he won't go."
There is clearly an argument going on in the background, TMZ reports, as Angela says: "I can't let him keep doing me like this. I'm gonna put an end to it today."
Once law enforcement arrived to the scene, Bryant's mother Angela told police she had gotten into an argument with her son and demanded that he leave the home, and that's when the star receiver got physical.
According to the documents, police returned to Angela's home two days later and she complained of pain in her wrists, hands and arms, and said her chest was sore from Dez pushing her, TMZ reports.
Police told TMZ they observed bruising in her upper arm. The documents list Dez Bryant as being 6'1", 198 pounds.
Bryant turned himself into police on Monday, and was booked for assault, family violence, a Class A misdemeanor.