Dakota Johnson says Chris Hemsworth's 'shocking' body was a 'distraction' while filming new movie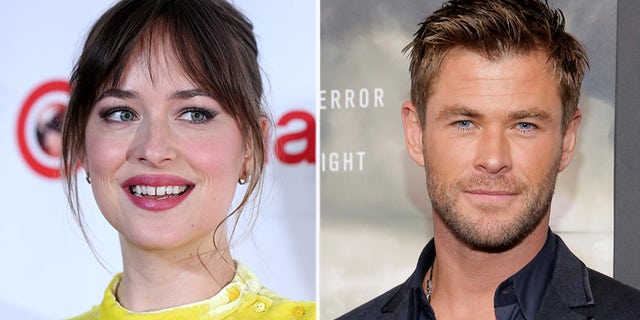 Dakota Johnson isn't mincing words when it comes to Chris Hemsworth's body.
Johnson, 28, is starring alongside Hemsworth, 35, in the upcoming movie "Bad Times at the El Royale" — and the actress admits it wasn't easy. Johnson said on set she often found her mind wandering, thanks to Hemsworth's ripped physique.
"Oh my god. It's such a distraction," the actress told Vogue Australia. "I was like, guys, you've made a huge mistake getting him to do this, because everyone is going to forget everything that happened [in the film] until this point."
She added, "Chris is going to come onto the screen, and his body is outrageous, it's unbelievable, like a crazy, crazy thing to look at, and his shirt's completely unbuttoned."
The "Fifty Shades" actress recalled others having trouble focusing, too.
FIRST LOOK AT JOAQUIN PHOENIX IN JOKER STAND-ALONE MOVIE REVEALED
"No-one on set could pay attention to anything else: it was so shocking, not in a sexual way at all, just, like, scientifically, how is it possible to look like that? Crazy!" she said.
Johnson added, "Then he would eat a bowl of Smarties and you're like: 'You're an a-----e, f--k you!'"
The actress then shared details of her own diet.
"I don't eat anything sweet: I eat green things for three months in order to fit into a pair of jeans," she confided. "And he eats whatever the f--k he wants and looks like he was literally chiselled out of marble – it's insane."
'SEX AND THE CITY' STAR KRISTIN DAVIS POSTS THROWBACK PHOTO, LEAVES OUT KIM CATTRALL AMID FEUD
While the actress applauded Hemsworth's toned figure, she also gave him credit for his incredible personality and skill.
"He is really funny, sweet and wonderful and a great actor, so I'm glad you guys love him, because he's a real gem," she told the Australian magazine.