Critics Slam Vanity Fair's 'Disgusting' GOP 'Beefcake' Calendar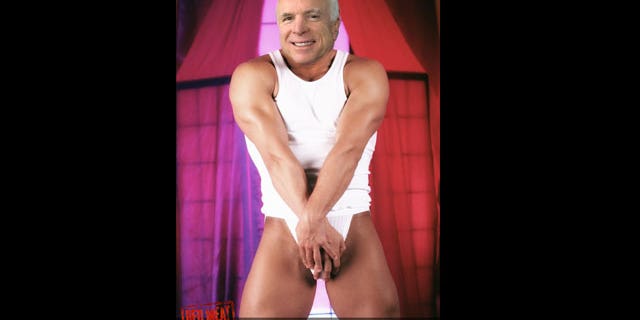 Just in time for Tuesday's midterm elections, VanityFair.com has released a racy 2011 "beefcake" calendar whose "pinup boys" -- their heads digitally mounted on the provocatively posed bodies of male models -- are some of the top names in the Republican Party.
Among the GOP power players portrayed in the calendar: 2008 presidential candidate John McCain and Kentucky Senate-hopeful Rand Paul, both goofily covering their crotches; Republican National Committee chairman Michael Steele, naked and in a creature-like pose with clawed hands and a ditzy, childish expression; Massachusetts Sen. Scott Brown, shirtless and holding his nipples in a sailor get-up; and House Minority Leader John Boehner, stroking his neck in a tiny pink Speedo.
In addition to the images, the calendar has descriptions for each individual, including their "turn-ons" (in the case of "Mr. March" John McCain, it "varies with each election cycle") and their "turn-offs" – with McCain's listed as "plucky brunettes who favor rimless glasses and folksy aphorisms."
So is this funny? Or is it a blatantly disrespectful attack on conservatives?
Not even remotely funny, says the Culture & Media Institute, adding it's "disgusted" by Vanity Fair's latest compilation, which it describes as "soft-core."
"This is just one more disgusting Vanity Fair attack on conservatives," said Dan Gainor, the Institute's vice president for business and culture. "What kind of coward would make fun of a war hero like Sen. John McCain this way? Imagine how angry liberals would be if conservatives attacked prominent minorities with a similar calendar.
"I think many of VF's advertisers might be surprised to know they are underwriting such vile hatred," Gainor continued. "Conservatives should make sure advertisers hear about this. The worst part of this assault is that Vanity Fair knows how these images will be used by the left. These disgusting Photoshop attacks will follow these conservatives around forever – linked to in blogs and highlighted at times even in the old media. Yet somehow this is a publication that claims it is credible. News flash: It's not."
But VanityFair.com's editor, Michael Hogan, tells Tarts that the calendar was actually designed to show that the Republicans have the "mojo" heading into the election, and that national sentiment for President Obama has waned.
"The VF.com team came up with the idea of a firemen-style Republican hunks calendar as a way of addressing two dynamics of this election season: (a) the GOP has all the mojo, and (b) the level of discourse has been almost clownishly low-brow," Hogan said.
"Those who assume that we are taking sides should note that the opener features a Photoshopped image of a wimpy-looking President Obama, complete with references to his supporters' 'libido-crushing frustration' after 'two economically desolate, war-torn, jobless years.'"
New York-based political publicist and image consultant Adam Weiss said most conservatives will take the pictures with a grain of salt.
"They are goofy, but harmless. I doubt any Republican would bother making an issue out of it at this point, as that would divert media coverage from the GOP's election momentum," he said.
"I'm not surprised, but it is distasteful. Some of the pictures cross a line of decency, but what should we expect from a magazine that has done everything in its power to prop up Barack Obama and his administration over the last two years?"
Pop Tarts' attempts to contact several of the politicians featured in the calendar were not successful.