Could 'Philomena' or 'Blue Jasmine' score an Oscar upset?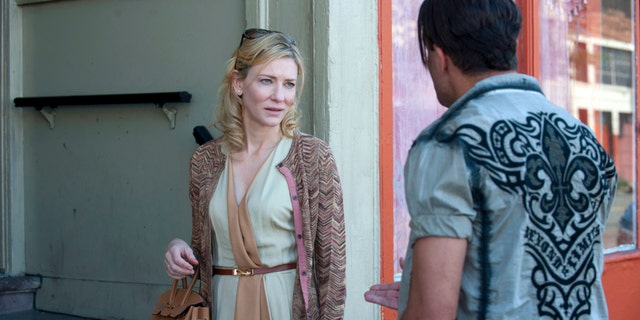 Could "Philomena" or "Blue Jasmine" win the Oscar for best picture?
It seems like an off-the-wall question, but the off-the-wall answer is yeah, maybe.
Since early September, pundits have been predicting that either "Gravity" or "12 Years a Slave" would win. But the films Warner Bros. and Fox Searchlight films have been associated with the word "Oscar" for so long, voters may be forgiven for thinking these were in contention for 2012.
Those two dominated Oscar buzz until December, when "American Hustle" and "The Wolf of Wall Street" burst upon the scene, amid a bunch of ultra-serious contenders, and reminded voters that awards pics can be entertaining. Both films have rabid fans and detractors, but whatever one thinks, it became clear that the race expanded.
A Saturday screening of "Philomena" at the Palm Springs Festival offered a reminder that there has been something missing in awards season this year: Audience tears, since the Stephen Frears-directed movie balances laughter and tragedy in a tight 97 minutes. A few years ago, "The Social Network" swept all the critics prizes and took home a Golden Globe, so pundits predicted Oscar was in the bag. But members of the Academy are often mainstream, in the good sense of the word. While critics vote for films that engage their intellects, Academy voters want films that engage their intellects and emotions.
In a year of mass shootings, corporate downsizings, relentless mudslinging and mass shootings, voters may be ready for an emotional catharsis. Other films as diverse as "Nebraska," "Captain Phillips," "Dallas Buyers Club" and "Saving Mr. Banks" also offer lump-in-the-throat moments, and that emotional pull could be a crucial factor.
And "Blue Jasmine" has a huge advantage over many of the other films: A lot of voters have seen it. In addition, "Jasmine" deals with the economy and the fight for survival, a recurring theme in 2013 films. So it's a "little" film but with big themes. And, aside from seeing it, people really like it.
Similarly, "Philomena" is a little film, but deals with forgiveness and religion, the latter a subject most studios are terrified to broach. On Dec. 19, Helen Mirren was the host of a reception for the film at Dan Tana's in Beverly Hills, and the crowd was enthusing about having seen the film several times, while admitting they hadn't seen other contenders even once. The AARP demographic in the Academy are a voting force. And they like this film.
The point is, the race is more wide open than some people realize. Pundits always like mano-a-mano matchups because it personalizes things, so it's fun to think that "12 Years" and "Gravity" will be the two leaders right down to the wire. And both of them are deserving of the praise they're getting. But the fact is, there are at least half a dozen films that have a serious chance. And when there are that many, surprises can happen. Look at ancient history ("Chariots of Fire") or more modern times ("Crash"). So the question is whether we'll see another party-"Crash" in the winner's circle this year.
Click here for more on Variety.com