Controversy aside, was Madonna's Super Bowl halftime performance one of the best ever?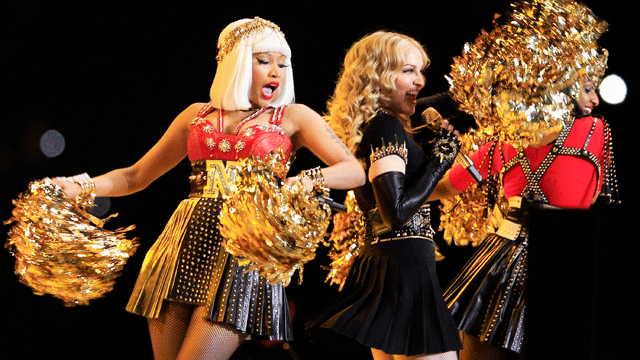 Despite some controversy, Madonna is mostly getting raves for her Super Bowl halftime performance. She looked beautiful, performed hits like "Vogue" and "Like a Prayer" like it was 1990 again, provided amazing sets complete with ancient Romans and Cirque du Soleil acrobats and invited a few more current stars to make the whole thing younger and hipper.
SODAHEAD SLIDESHOW: See the best-ever Super Bowl halftime shows.
However, one of those younger stars was responsible for the show's only significant "malfunction." During Madonna's performance of her new song "Give Me All Your Luvin'" -- featuring Nicki Minaj and rapper M.I.A. -- M.I.A. flipped her middle finger at the camera, forcing NBC to issue an apology.
"The NFL hired the talent and produced the halftime show," NBC said in a statement. "Our system was late to obscure the inappropriate gesture and we apologize to our viewers."
However, the NFL issued a statement saying M.I.A. had not rehearsed flipping the bird, so they had no knowledge of what she was going to do. "The obscene gesture in the performance was completely inappropriate, very disappointing, and we apologize to our fans," said spokesperson Brian McCarthy.
PHOTOS: See the latest celebrity pictures to hit the Internet.
Nevertheless, the consensus seems to be that nobody puts on a show like Madonna -- especially when she has a little help from Cee-Lo Green and Nicki Minaj. From Madonna to Michael Jackson to U2, let us know: Who put on the best Super Bowl halftime show of all time?