Cindy Crawford's daughter, 10, makes modeling debut for Versace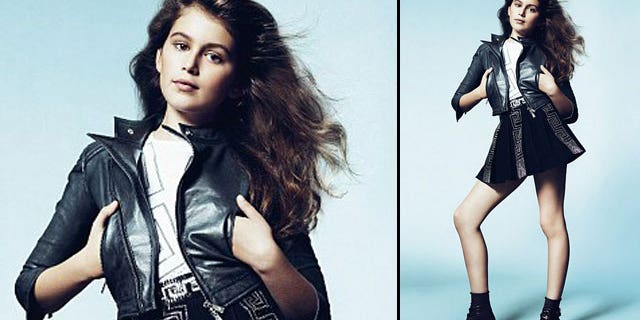 Cindy Crawford's ten-year-old daughter made her modeling debut this week in a new ad for Versace's children's line looking very grown up in full makeup and a miniskirt.
Kaia, who is Crawford's daughter with husband Rande Gerber, poses for the inaugural collection of Young Versace, which caters to children 12 and under, according to the U.K's Daily Mail.
Kaia is seen in a leather jacket and embellished miniskirt, and her hair is styled in waves. Wearing full makeup, she appears years older than ten.
Crawford, who was the former muse to the late Gianni Versace, expressed pride in the campaign in a press release, the Mail reports.
"I'm so thrilled that Kaia was chosen to be part of the first Young Versace Campaign," she is quoted as saying.
"I have so many fond memories of the times I spent with Gianni and Donatella. There is something so very special about the House of Versace."
Crawford insisted that she was on set while her daughter shot the campaign and described it as a "fantastic experience."
Donatella Versace praised Kaia's abilities on set, saying "Like her mother, Kaia has a very special gift. The camera really, really loves her."
The first young Versace boutique just opened in Milan, Italy.