Chrissy Teigen addresses viral Emmys cringe-face meme: 'You guys are brutal'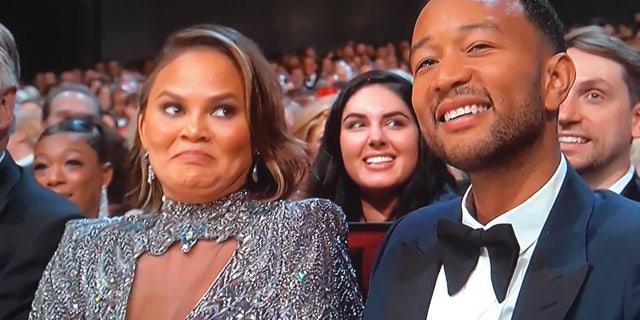 NEWYou can now listen to Fox News articles!
Chrissy Teigen has never been one to shy away from expressing herself and on Monday night at the 70th annual Emmy Awards, the meme queen blessed the internet with yet another viral facial expression.
The Sports Illustrated model and cover girl escorted her husband and recently named EGOT, John Legend, to the 2018 Emmys where the mother of two was caught in the audience after making one of her now inconic faces in response to hosts Colin Jost and Michael Che's opening monologue.
The "SNL" Weekend Update anchors took some hits at fired "Roseanne," star Roseanne Barr, and at police officers in their Emmys opening sketch.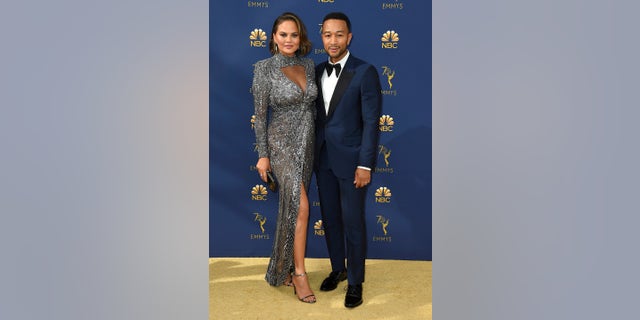 Che joked that it was amazing that Laurie Metcalf, former "Roseanne" cast member, was still nominated for her role in the show despite Barr's firing and the show being canceled and turned into the "The Connors."
"By the way, congratulations to Laurie Metcalf. Please," Che said to the audience. "I mean, wow. That's incredible. You know how great an actress you have to be to get nominated for Roseanne now? That's like nominating a cop for a B.E.T. Award. Doesn't happen. It would be weird."
Though the quip gained laughter and applause from the audience, Teigen was spotted in the crowd cringing at the awkward joke and once she noticed the cameras were on her, she appeared to try and dodge the spotlight by sinking into her chair.
The model's bold reaction became internet gold and may have replaced the internet fame of her awkward crying face that went viral after the 2015 Gloden Globes.
Fans reacted to the popular meme-turned-GIF via Twitter, calling the 32-year-old a "full-time gif and a professional meme."
One user wrote, "But when is @chrissyteigen getting an award for "Best Reaction"? #Emmys"
Another tagged Teigen and said, "No one is better at looking more uncomfortable at award shows than @chrissyteigen."
The model later responded to fans via her own Twitter page in a series of tweets following the viral meme.
Teigen retweeted one post of her infamous Emmys facial expression and said, "this is a setup."
Legend's wife who recently announced to the world that the world has been saying her last name wrong, explaining that the correct pronunciation is "TIE-gen" and not "TEE-gen," later tweeted, "man. you guys are brutal."