Chris Pratt shares cryptic message amid James Gunn fallout as Zoe Saldana speaks out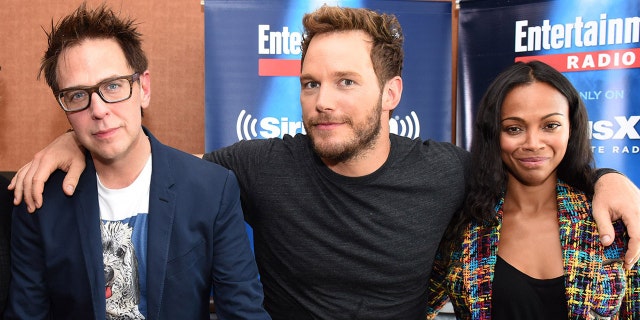 The controversy continues.
Days after director James Gunn was let go from filming "Guardians of the Galaxy 3," some of the franchise's stars are seemingly speaking out.
Lead Chris Pratt took to Twitter to post a message that many fans felt was geared toward Gunn's dismissal.
"'Understand this, my dear brothers and sisters. Let every person be quick to listen, slow to speak, slow to anger.' JAMES 1:19," he wrote with prayer hands and a heart emojis.
Sean Gunn Weighs In on Brother James Gunn's 'Guardians of the Galaxy Vol. 3' Firing
His co-star, Zoe Saldana, was a bit more avert on her own Twitter, writing, "It's been a challenging weekend I'm not gonna lie. I'm pausing myself to take everything in before I speak out of term. I just want everyone to know I love ALL members of my GOTG family. Always will."
Actor Dave Bautista replied to Saldana's message, writing, "When it's time you will speak from your heart like you always do. Until then #weareGroot love you hermana."
Bautista also called Pratt's message, "Beautiful words."
Bautista has been one of the most outspoken proponents of keeping Gunn at the helm of the franchise.
James Gunn Fired From 'Guardians of the Galaxy Vol. 3' After Controversial Tweets Resurface
"I will have more to say but for right now all I will say is this.. @JamesGunn is one of the most loving, caring, good natured people I have ever met. He's gentle and kind and care deeply for people and animals. He's made mistakes. We all have. Im NOT ok with what's happening to him," he tweeted on Friday.
James' brother, Sean Gunn, who also appears in the films, also spoke out in favor of his brother.
"I hope it goes without saying that I love and support my brother James," he tweeted over the weekend. "And I'm quite proud of how kind, generous, and compassionate he is with people in his life, whether they are friends, family colleagues, fans, or strangers."
James was fired from the Marvel superhero flick on Friday after his controversial tweets were resurfaced by conservative pundits and the website Daily Caller.
'Guardians of the Galaxy' Star Sean Gunn Is Engaged!
"The offensive attitudes and statements discovered on James' Twitter feed are indefensible and inconsistent with our studio's values, and we have severed our business relationship with him," said Walt Disney Studios chairman Alan Horn in a statement to ET.