Cher bares body at the 2017 Billboard Music Awards
Cher may be 71, but she isn't afraid to show some serious skin. The pop superstar took the stage at the Billboard Music Awards on Sunday and wore two very revealing outfits, which barely covered her fit figure.
This year's Icon Award recipient delivered a Las Vegas-worthy performance of her '90s dance hit "Believe" in a body-revealing outfit and white wig surrounded by dancers.
She returned in another iconic look: teased curly black hair and leather jacket over a sparkling jumpsuit as she sang "If I Could Turn Back Time."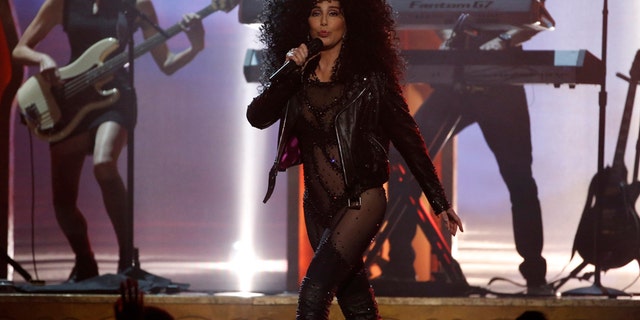 When Cher got up to accept her Icon Award, she wasn't afraid to do a little bragging. The singer and actress noted that she had been lucky to have a dream career for more than five decades, and at the age of 71, she said she can still hold a plank for five minutes.
She noted she was told early on that she never was the most beautiful or the most talented, but she was special and added that "luck has so much to do with my success with a little bit of something thrown in."
The Associated Press contributed to this report.